Why Do Baseball Players Wear Chains? (5 Touching Motives)
Baseball is a sport of many strange habits and traditions. One of them is the constant sight of large chains decorating the appearance of the players. Even though this isn't the strangest thing in baseball, it will make you wonder why baseball players wear chains, especially when they are rarely seen in other sports.
Baseball players wear chains for many reasons, such as looks and confidence, which often are related to each other. Religious chains and symbols are also worn, such as the Cross by Christians or the Star of David by Jews. In addition, players might wear chains from their loved ones or even fans.
That's a handful of meaningful reasons why baseball players in the MLB or other levels wear chains. Personally, I think the reasons are valid, and when a chain or an amulet holds meaning, it can make the player play better.
Many people who first notice baseball players wearing a chain on the field are surprised, as jewelry isn't usually found on athletes when playing.
However, the Official Baseball Rules for both MLB and other leagues don't forbid jewelry from baseball players to express themselves in peace. You should keep in mind that if the chain would shine brighter than a diamond and distract other players, that would be an issue.
Now, let's examine each of the reasons why baseball players wear chains more in-depth so that you can understand the meaning behind the choice.
Related: Why Do Baseball Players Use Wrist Tape? (& Taping Guide)
Why Do Baseball Players Wear Chains?
Generally, there are five common reasons why baseball players might choose to wear a chain on the field. Let's begin with the original reason chains and jewelry is even a thing. Looks!
1. Looks
When you look at baseball players, their appearance is cool and even iconic, thanks to the baseball uniform. However, accessories such as a chain can and will make the appearance even better, which is why baseball players, especially MLB players choose to wear a chain.
Imagine that tens of thousands of fans are watching you make a move. Wouldn't you want to look at your best at that moment? I most certainly would, and a chain will make the overall look pop!
2. Confidence
Confidence often goes hand in hand with appearance. Think about it, for example, If you're having a busy morning, you wore the same clothes as the day before, didn't have time to brush your teeth or do your hair, and you accidentally put two different shoes on your feet.
That wouldn't be the best appearance you could have, and in this scenario, your confidence wouldn't be on the roof.
However, when you wake up fresh, take a nice shower, wear a clean MLB uniform and wear a golden or another kind of chain, you will feel great. And when you feel great, you play great!
Research has shown that appearance is related to self-esteem, and with that, to performance. When you like the way you look, you will think, behave, and feel better, which will, in this case, make you a better baseball player.
3. Religion
Religion has been the cornerstone of every civilization on earth as long as there have been people around. In the modern world, this is still true, even not in a similar manner as a thousand years ago, and it's heavily area related.
However, an estimated 85% of the human population is part of some religion, whereas 15% are non-religious, atheists, or nonbelievers. That being said, you can bet that many baseball players hold religion close to their hearts.
Whether Christianity, Islam, Judaism, Hinduism, or any other, symbols hold meaning for the person believing in the religion. Religion can be empowering and give the sense of belief, trust, safety, and hope which is why MLB and other baseball players wear chains, amulets, or jewelry on the field.
4. Superstition
Superstition isn't a religion, but it's something many people might believe in real or do as a ritual for better results for the game.
For example, wearing a gold chain on the gameday for superstition doesen't jinx the game and might award a home run or two.
Kissing the chain is also a popular habit for superstitious and religious people. It symbolizes belief and respect, which in turn might award you with the favor of the universe, god, or a higher being.
5. Love
Love is considered one of the most, if not the most, powerful emotion of all. That being said, a necklace, amulet, or chain from a loved one is one of the most precious items one can have.
If that's the case, I wouldn't be surprised to see MLB players wearing a chain given to them as a gift from their spouse or partner.
Romantic love isn't the only kind of love people might exchange. In fact, a baseball player such as Mookie Betts got a chain gifted by a fan, which is the piece he wears on every baseball game he attends to.
Next time you see a baseball player wearing a chain during a game, try to guess which of these reasons he is wearing it. You can tell a lot from the chain's appearance!
Different Types of Chains Worn By Baseball Players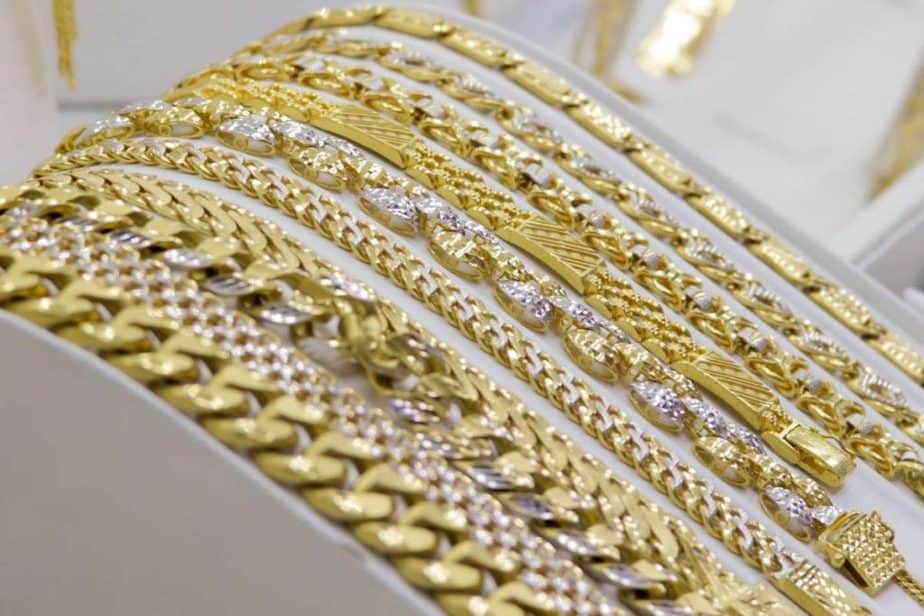 A chain isn't just a chain. It can have different meanings to different people, and it can be made from different materials. Let's dive deeper into the materials and types of chains and jewelry baseball players often wear.
1. Gold Chain
Gold chains are beautiful, heavy, and very expensive. In other words, the perfect choice for a star MLB player!
When you wear a real golden chain, the feeling you get from it is very good as you will acknowledge that it's the real deal. Another benefit for real gold chains is that they won't distract other players as they won't glitter.
You probably have seen movie scenes of golden treasures where the coins and other gold items almost blind the person looking. However, real gold has a metallic surface instead of that shiny glimmer that fool's gold has. All in all, golden chains are stylish choices on the baseball field.
2. Gold Plated Chain
When you see a baseball player wearing a very thick and glimmering necklace that looks like gold, it's almost certainly gold plated chain.
Gold plated chains doesen't cost nearly as much as solid gold chains and assuming that the chain was thick, it would cost a lot of money.
The benefits of gold-plated chains are that you can get a thick one at a reasonable cost instead of paying yourself to pain from one. Other perks include that they aren't as heavy as solid gold chains because gold is much heavier than the usual steel or silver beneath the plating. In addition, they are more durable as gold is low on the durability scale when it comes to metals.
However, there are some cons as well. When wearing a thick chain, it can get in the way of the player's view and decrease the performance or even cause an error.
3. Phiten Necklace
Phiten necklaces are very popular amongst baseball players, especially in the MLB. In fact, more and more baseball players have started wearing Phiten necklaces, as it is believed to increase the flow of energy.
Phiten necklaces are always made from titanium soaked in water, making it aqua-titanium. It's said that the microscopic titanium particles that are dispersed in water produce an electrical charge, relieving pain, increasing energy, and speeding recovery.
People are speaking for and against Phiten necklaces, but according to science, there is no way that small magnets can alter the structure of a human body. Be that as it may, if you're a baseball player and believe in Phiten necklaces, wear them as you will gain confidence and look cool in the process.
4. Amulet
You can occasionally spot amulets added to the chain when looking at a baseball game. In most cases, an amulet is a symbol of some sort, whether that is a religious one or another one that holds meaning.
By far, the most common amulets are crosses symbolizing Christianity. There has been a lot of controversy for MLB players as their crosses because it can be a serious safety risk as the players need to slide and occasionally make contact with other players. As the cross comes with three pointy ends, it can damage the player's neck.
Another popular amulet is one connected to love. This can be a romantic amulet that connects with the spouse's piece or one given by a family member.
Other meaningful amulets exist, such as symbolizing an event or an emotion from the player's past or current moment.
Who Started the Necklace Trend In Baseball?
When it comes to any trend, whether the latest fitness trend, TikTok trend, or a baseball necklace trend, they all have a starting beginning that a single person often starts. So, who started the necklace trend in baseball?
George Scott started the necklace trend in baseball in the 1970s when he wore shell necklaces. Since then, many people have embraced the necklace trend, and it has evolved over the years to gold chains and Phiten necklaces.
Another notable pioneer in the necklace trend-making for baseball is Manny Ramirez. Manny is famous for his gold chains that inspired others to wear them too. The funny thing about Manny Ramirez's gold chain style was that he often wore than one, usually 3 to 5 chains at once.
Are There Baseball Incidents Including a Chain or a Necklace?
Using necklaces and chains during a baseball game has raised some questions as they aren't necessary for the sport, can come on the way, and even cause injuries. So, have there been any incidents in baseball involving a chain or a necklace?
A New York Mets player Yoenis Cespedes broke his valuable necklace in 2018 at Citi field when sliding to second base. The diamonds from the necklace scattered across the field, where he picked them up one by one, causing a memorable scene in baseball history.
You can only imagine the price of a diamond necklace worn by a famous MLB player. It isn't cheap, and diamonds can be easily lost on the dirt, so picking up all the valuable pieces off the ground requires time.
Check out the video below about the incident.
Another famous jewelry incident in the MLB was when Lance McCuller's diamond bracelet broke in 2017 when playing against the Yankees. As a result, he spent a long time looking for the piece off the ground, as you can imagine.
In the meantime, the umpires were waiting for a review of Aaron Judge's missing second base, but Lance had other business to attend to. The reason why Lance McCuller's bracelet broke is yet unknown.
Most Famous Baseball Players Who Wear Chains?
You may have learned by now that chains and necklaces are a big thing in the MLB and baseball altogether. This raises the question, how many famous baseball players wear chains during a game?
The most famous baseball players who currently wear chains are Mookie Betts, Aaron Soto, Manny Machado, Chris Archer, and Javier Báez. Previous famous baseballers known for their necklaces include Manny Ramirez and George Scott.
You can bet that the players above aren't the only ones, as many more are wearing chains. What about you? Would you wear a chain or a necklace if you were a Major League Baseball player?
My Favorite Baseball Equipment
Thanks for reading this article. I hope it brought you great value that you can implement into your own life! Below you can find my favorite baseball bat, baseballs, and a glove that I think will take your game to the next level!