What To Wear To A Hockey Game? (The Ultimate Guide)
So you're going to a hockey game but don't know what to wear? That's something everyone who has watched live hockey is familiar with, so don't worry; I'll give you tips and recommendations on how to dress properly.
When going to a hockey game, dress warm as you would for a chilly winter evening at home. A hoodie, sweater, long sleeve, thin jacket, long pants such as jeans, warm socks, and regular shoes like sneakers are all great choices. A hat such as a beanie or a cap, mittens, and fan gear is a great addition.
You should know that professional hockey arenas like NHL, CHL, KHL, etc., are warmer (60-65°F / 15-18°C) than local hockey arenas (50-60°F / 10-15°C). So, keep that in mind when deciding what to wear to a hockey game, and dress warmer for local games as you would for professional hockey.
Another thing I recommend is to take more than less clothing with you because you can always undress a layer of clothing, but you can't add one if you don't have it with you.
Also, generalizing clothing instructions regardless of your area or time of year is difficult because you could be in cold New York City in winter or sweating on a hot afternoon in California. That said, take a look outside and think about the temperature in the hockey stadium.
You don't want to travel from home to the arena fully layered if it's 85°F (30°C) because you would melt on your way. Instead, take a hoodie or such with you and travel to the game in jeans and a t-shirt, and only when you get to the chilly hall wear your hoodie. This is an example, but the general advice works with many outfits.
I know you're burning for some real-life examples of what to wear to a hockey game, so next, let's take a look at those.
What To Wear To A Hockey?
Below you'll find clothing ideas for men and women. Remember that you can wear whatever you want, and there are no gender-specific clothing rules to follow; however, be sure to dress warm in layers, so you don't get cold.
As A Female
We all have different styles regardless of gender; however, some pieces of clothing are more popular amongst one gender than the next. Anyways, below you'll find clothing ideas for girls to wear at a hockey game.
Head: A beanie is a perfect headwear for a chilly hockey game because it'll keep you warm, and they look very good! Ear warmers of all styles work well with the wintery theme as well. Oh, and a scarf will give extra warmth to your neck.
Torso: As for the torso, a t-shirt underneath a sweater or a hoodie will be great to keep you warm in layers. If you want to be the best-looking girl there, a fan jersey will drive up the energy in the arena.
Hands: Covering hands may not be necessary for everyone, depending on how accustomed you are to chilly temperatures. Nonetheless, mittens instead of gloves will look great for girls.
Legs: Jeans, leggings, or sweatpants are your best bet, as skirts or dresses' are too cold for hockey games.
Feet: Wear something comfortable such as sneakers or boots like Uggs to complement the wintery theme with warmth and style. Heels or shoes as such aren't great because of the crowd, chill, stairs, and other obstacles on the way. If you feel cold easily, don't forget your warm wool socks!
As A Male
As a man myself, I feel there are fewer outfit options for boys to play around with. Still, there are many warm and stylish pieces of clothing to wear.
Head: A beanie or a cap with your team logo will work well for hockey games for boys.
Torso: I love college long-sleeves as they are comfortable, stylish, and warm. A sweater or a hoodie will work well; if you're a true fan, a fan jersey works best. Remember to layer up and wear a t-shirt with all the above choices. Also, a thin jacket is a great addition.
Hands: If you feel cold easily and don't like keeping your hands in your hoodie pocket for warmth, gloves are the best choice for men for hockey games. However, mittens work fine too.
Legs: Jeans for style or sweatpants for comfort are the two best leg clothing for men. If you're going to a local hockey game, compression pants underneath your pants give extra warmth.
Feet: Sneakers or other closed-toe shoes are your best bet for a hockey game for comfort, warmth, and style.
Style Tips
If you care about color and how well your clothing fits well amongst each other, there are a few rules of thumb to follow to get your outfit on the next level, stylish-wise.
Match Your Favorite Teams' Colors
Work With Your Skin Color
Don't Wear More Than 3 Colors
Neutral Colors Are Your Friend
Match Your Shoe Color With Your Shirt or Jacket
With these five guidelines, you won't only be warm at the game but also one of the most stylish ones there. Style is a great way to increase interest if you have a date to impress. However, if it's you to wear 5 different colors and do none of the above, do you!
Whether you go alone, with company, have a date night, or if you're a stylish or casual dresser in nature, be sure to dress in a way that you're comfortable and warm, and that's all you need to be a successful hockey game! If you're a true fan, fan equipment from NHL Shop will only increase the ambiance!
What To Wear For Professional Vs. Local Hockey Game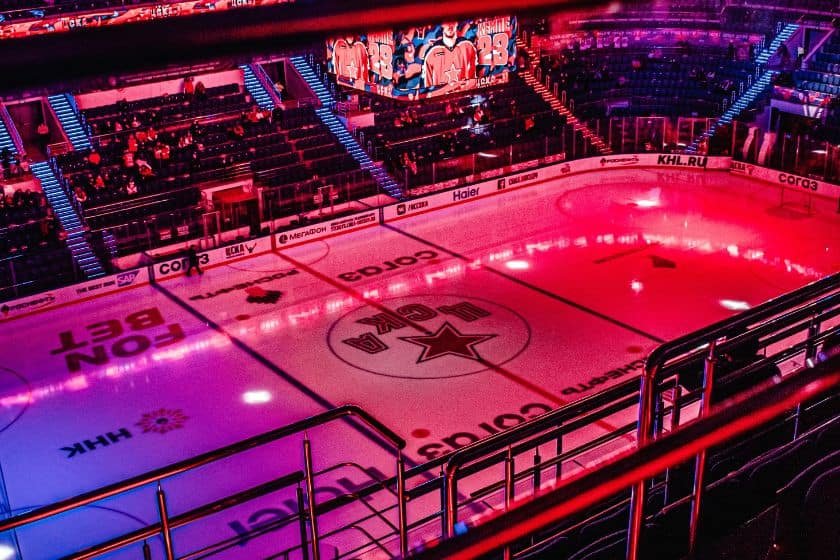 The difference between a professional and local hockey game for the fans is that the temperature isn't the same. Pro hockey stadiums are warmer for the fans, whereas local halls can be chilly. So, how to dress differently.
A hoodie with a t-shirt beneath, jeans, regular socks, and sneakers are enough for most professional games. A beanie or cap is always a great idea for style and warmth in hockey games too, and warm mittens wouldn't hurt either.
You should wear more clothing for local hockey games than for pro games. This may be a long sleeve, a warm sweater or hoodie and a jacket, jeans or sweatpants with a warming seat cushion beneath your butt, wool socks on top of regular ones with sneakers, and definitely a beanie and mittens.
The difference isn't drastic, but an additional layer, a butt warmer, and a hat and gloves that you might not wear to a professional hockey game should be worn at a local one.
Is It Cold At A Hockey Game?
To best understand what and how to dress for a hockey match, you need to know the temperature(s) of hockey arenas and what further affects the temperature to better prepare yourself for the cold.
Generally, hockey arenas are chilly, especially local ones, compared to professional stadiums. Professional stadiums are usually 60-65°F (15-18°C), whereas local ones are 50-60°F (10-15°C). Also, seats closer to the ice are colder than seats further back.
That said, if you get chilly easily, you should select seats that aren't close to the ice rink. In general, the ice on the rink is 25°F (-4°C), so it will distribute cold air on the nearby seats and areas.
Remember to dress warm and bring more clothes rather than too few; you will be warm and cozy through the game.
What To Bring To a Hockey Game?
Clothes aside, what else is important to bring to a hockey game so you will get in, have everything you need, and can get everything you want from the game. Realizing that you miss an important item is horrible when you get to the stadium, and the game is about to start.
Here's a list of what to bring to a hockey game;
Ticket
Money (Cash & Card)
Identification
Extra clothing
Small snacks such as nuts
Water
With this short list, your entrance is guaranteed, essentials are taken care of, and hydration & snacks are in order. There's nothing more you need; however, there are always items to enhance your experiences, such as a warming seat cushion, fan equipment, and more.