What Is Whip In Baseball? (The Complete Guide)
New forms of baseball are evolving, but stats remain unchanged. Baseball is transforming into a game of math and needs more analysis. If you look at the profile of a pitcher, you can see the WHIP statistic associated with him. As a baseball fan, you need to educate yourself about WHIP. So, what is WHIP in baseball?
Walks and Hits per Innings Pitched (WHIP) in baseball indicate the sum of walks and hits divided by the total innings a pitcher has pitched. It indicates the degree to which a pitcher gives up baserunners during the game.
If this stat has kindled your curiosity, you should scroll below to understand how it is calculated and its history of this stat.
Background of WHIP
The pitcher is responsible for stopping the opponent team from scoring runs. When baserunners are prevented, limited runs will be allowed. When pitcher limits allowed runs, it improves his performance.
WHIP ignores the method adopted by a hitter to reach the base. For instance, it ignores hit batter, runner meeting according to fielder's choice, and error.
Intentional walks are considered against WHIP. For a pitcher to score a low WHIP value, it is essential to note outs and prevent baserunners from hitting bases.
WHIP and ERA have close links. A low WHIP value means a better-earned run average (ERA). It is also an indicator of limited men located on the base. This is an advantage to the other team.
Now that you have learned about the inclusions and exclusions of WHIP let us look at its history.
Daniel Okrent coined WHIP in 1979. He was also the inventor of rotisserie league fantasy baseball. WHIP was originally called innings pitched ratio.
Billy Beane also has a link to WHIP. Upon establishing division league champion teams, Billy required assistance in analyzing ratios and numbers. Different teams applied sabermetrics to understand the subject. However, his urge was one of the reasons for Daniel Okrant to coin the term exclusively to measure the performance of a pitcher.
There is also a similar statistic in baseball – baserunners per nine innings (MB/9). It includes hit-by-pitchers, walks, and hits. Unfortunately, the term has not gained huge significance and application in baseball, unlike WHIP.
Why Is WHIP Important In Baseball?
WHIP is crucial as it gives a clear picture of a pitcher's capability and accountability for self. It also offers an idea of what the pitcher has worked off with respect to baserunners.
WHIP is a better way to understand walks and hits connected with a pitcher. If you wonder why the variable "hit by pitch" is not considered in the calculation, it is because the pitcher is solely responsible for it.
WHIP has found its way into most baseball games (including fantasy leagues) because of its precision and relevance in evaluating pitchers.
How To Calculate WHIP In Baseball?
WHIP in baseball is calculated as the sum of hits and walks that is divided by the number of innings pitched. The result is a number with 2-3 decimal places.
The formula is:
WHIP = (Hits + Walks)/Number of Innings Pitched
Let us now look at an example.
A pitcher has pitched 40 innings and allowed 15 hits and 10 walks.
WHIP = (15+10)/40 = 25/40 = 0.625
This WHIP value is used to determine if the pitcher has excelled or lost the game. Subsequently, it determines the participation and position of the pitcher in the game.
What Is A Good WHIP In Baseball?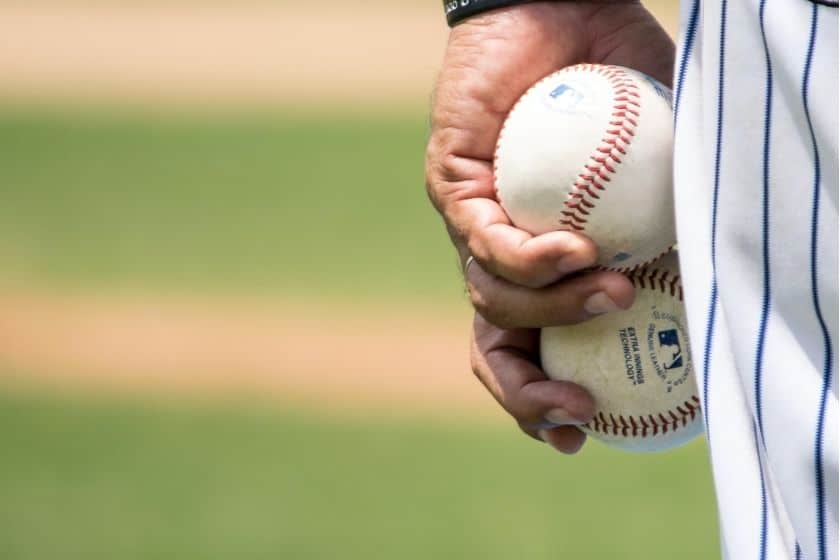 A good WHIP is below 1.1 in baseball. Elite pitchers hold WHIP below one, while bad pitchers hold WHIP above 1.5. A pitcher needs to maintain a low WHIP.
Unfortunately, a good WHIP value changes each year. Although it is not as popular as OPS, WHIP is still used to assess performance.
The present FanGraphs leaderboard has an estimate of good and bad WHIP scores.
| | |
| --- | --- |
| Rating | WHIP |
| Excellent | 1.00 |
| Great | 1.10 |
| Above Average | 1.20 |
| Average | 1.30 |
| Below Average | 1.40 |
| Poor | 1.50 |
| Awful | 1.60 |
Source: Fangraphs.com
WHIP is more concerned with the prevention of base runners. This prevention involves partial defense and pitching.
Walks demonstrate the faults of the pitcher. The number of hits and walks is calculated when the pitcher is on the mound. The problem with WHIP is that it considers individual events and does not include events in large numbers. This gives more chance for one bad play to take over the entire career score and ruin the position.
Is A Higher WHIP Better In Baseball?
A low WHIP (below 1.20) is better in baseball as it demonstrates the pitcher's potential to stop baserunners from reaching the base.
The best way to score a low WHIP is to increase strikes, thereby reducing the number of hits and walks.
Who Has The Best WHIP In Baseball?
Addie Joss holds the best WHIP in baseball with a score of 0.9678. Following him are Ed Walsh and Mariano Rivera. All three are felicitated in the National Baseball Hall of Fame.
Here is the list of the top 5 players with their WHIP scores (as of 2022).
| | | |
| --- | --- | --- |
| Player Name | Role | WHIP Value |
| Addie Joss | Elected to the Hall of Fame of National Baseball | 0.9678 |
| Ed Walsh | Elected to the Hall of Fame of National Baseball | 0.9996 |
| Mariano Rivera | Elected to the Hall of Fame of National Baseball | 1.0003 |
| Clayton Kershaw | Active player | 1.0009 |
| Jacob deGrom | Active player | 1.0114 |
Source: Wikipedia
In MLB history, Pedro Martinez held the lowest single-season WHIP value of 0.7373. He is followed by two other players – Guy Hecker (0.7692, 1882) and Walter Johnson (0.7803, 1913).
In another list of the 25 lowest WHIPs calculated right from 1900, Justin Verlander holds a WHIP score of 0.803. His ERA was 2.58. With a low WHIP value and a high ERA score, Verlander was considered a great pitcher.
Do we have a list of poor WHIP scores? Here is the list of players with bad WHIPs.
Several players in the list of low-WHIP scoring pitchers were from the Boston Red Sox and New York Yankees.
According to Baseball Reference, other active leaders have made records for WHIP. Here is a table containing the player's age, number of years played, innings played, and WHIP.
| | | | | |
| --- | --- | --- | --- | --- |
| Player Name | Years In Baseball | Age | Innings Played | WHIP |
| Clayton Kershaw | 15 | 34 | 2484.2 | 1.0009 |
| Jacob deGrom | 8 | 34 | 1261.2 | 1.0114 |
| Chris Sale | 11 | 33 | 1672.1 | 1.0423 |
One interesting observation is that Jacob deGrom has excelled as a pitcher with only eight years of experience but has also maintained a low WHIP. Nevertheless, Clayton Kershaw outperforms the list as he has played over two thousand innings and has entered the elite player list based on the WHIP score.
Other WHIP leaders are categorized based on seasons, yearly leagues, and careers. However, WHIP scores also pave the way for baseball pitchers to the hall of fame, black ink, and gray ink.
WHIP vs. ERA
An ERA is about the number of earned runs given up by a pitcher, while WHIP considers unearned runs. Both are critical statistics but have different impacts on evaluating pitchers.
ERA assesses the number of baserunners that reached home. It disregards unearned runs. WHIP works contrarily in considering unearned runs and assessing if the pitcher has let the other team score runs.
The pitcher is regarded as an effective player when the WHIP is low and ERA is high. However, such pitchers are quite rare and tough to spot.
Which is better out of the two? The WHIP stat is better as it allows a team to decide on pitchers. Perhaps, the likelihood of giving up runs increases when baserunners are associated with each inning.
Several baseball team evaluators use WHIP as one of the statistics to decide on the pitcher.
Having said that, there are also flaws with the WHIP stat. A high WHIP is possible when a hard-throwing pitcher lacks control. In that case, more batters walk, but the number of hits can reduce significantly.
Nolan Ryan is an excellent example. He had an average number of strikeouts of 300 for each season. However, he has also walked around 170 batters every season. This arrived at an average of 6.3 hits achieved for nine innings.
His tactical play was another reason for him to rank on the list of top 10 pitchers of all time.
Does Low WHIP Increase Victories?
A strong WHIP increases the chances of victory of a team compared to ERA. While there is a correlation between both variables, it is not the only stat to assess pitchers.
In research by Lahman Baseball, the correlation between WHIP and winning percentage is -0.514, while the correlation between ERA and winning percentage is -0.452.
The spreadsheet includes the performances of pitchers from 1901 to 2009. The average WHIP score has been in the range of 1.1-1.4.
WHIP is not the only stat influencing likelihood of wins in baseball. There are other stats like FPS and ERA used to assess pitchers and other players.
Related Articles
My Favorite Baseball Equipment
Thanks for reading this article. I hope it brought you great value that you can implement into your own life! Below you can find my favorite baseball bat, baseballs, and a glove that I think will take your game to the next level!