What Is OTA In Football? (& Role, Schedules & Violations)
We have always wondered what players and teams do during off-seasons. Do they practice or engage in other activities? National Football League (NFL) has mandated events and requirements to conduct practices at specific points. This is where the OTA comes into the picture. So, what is OTA in football?
Organized team activity (OTA) in football comprises off-season workouts that are scheduled on the 3rd or the 4th week of Phase Three for four days. Although these happen during the off-season, NFL has criteria to monitor teams and penalize them for violations.
How do OTAs work? What are the criteria chosen by NFL? Let us look at them in detail, along with a glance at schedules.
Role Of OTA In NFL
NFL drafts OTAs to improve the performance of the playing staff. Perhaps, all teams in NFL take part in OTAs. According to Article 21 of the Collective Bargaining Agreement, NFL encourages players of all teams to participate in off-season workouts.
The agreement between the Players Association and the NFL describes situations, timelines, and methods to carry out team activities. The offseason is divided into various segments, and OTAs formulate one of them.
Let's say a team wants to improve its positioning. This OTA is the perfect time when coaches can work with players in fixing roadblocks and revising strategies to handle upcoming matches. If the team needs new recruits to plan line-ups, teams can still use OTAs.
There are several parameters in play when planning OTAs in NFL.
OTAs are conducted up to three days weekly for the initial two weeks in Phase Three.
OTAs are conducted up to four days on the third or fourth week in Phase Three.
It also plays a role in the Mandatory Veteran Minicamp that occurs every week during the off-season. This minicamp happens on working days when returning players undergo physical examinations and coaches make decisions.
Most importantly, veterans who do not attend these OTAs and minicamps will be fined. This is one way to enhance the participation level of players and veterans during an off-season.
Most OTAs engage about 90 players, and some activities give unsigned players a chance. As the season kickstarts, the number of players decreases from 90 to 53. Such OTA workouts are critical to deciding their careers and continued participation in upcoming seasons. 
How Do OTA Schedules Work?
OTAs are scheduled during May and June and include undrafted free agents, veterans, and drafted players. The OTA schedule has three sections – OTA offseason workouts, first day, and mandatory minicamp.
Workout programs form major portions of OTAs and happen during the initial weeks. During these programs, coaches focus on the strength and conditioning of players. This approach helps players to develop a better understanding of expectations for upcoming seasons. However, coaches remain aware of the extent to which workout programs can be designed so players do not wear out. 
Veterans minicamp constitutes a significant duration in the OTA. Teams are allowed to plan a maximum of 4 days mandating practice. Veterans, coaches, and signed players in these minicamps should attend without fail. The rule of thumb is to limit the degree of contact but then focus more on appropriate techniques to build the team's performance. The coach interacts with various players to enhance the performance and develop the team's mindset.
If new coaches are on board, they get adequate time to interact with their teams and establish new playbooks.
Conducting a voluntary veteran minicamp includes adherence to various rules listed below:
It is held one week after Phase One.
It is held before the NFL Draft.
It is not held before the club's offseason workout program (that happens on week three).
Here is an example of an OTA schedule for the Denver Broncos.
The first day of the camp is on April 11.
The voluntary minicamp is the first portion of OTA and happens on April 25-27.
Multiple OTA offseason workouts are spread between three and four weeks.
As soon as the voluntary minicamp and workouts get over, the mandatory minicamp is the final event that happens for three days.
Assuming that OTA offseason workouts end on June 10, the mandatory minicamp can happen between June 13 and 15.
Related: How Many Quarters In Football? (All Leagues & Levels)
OTAs & Levels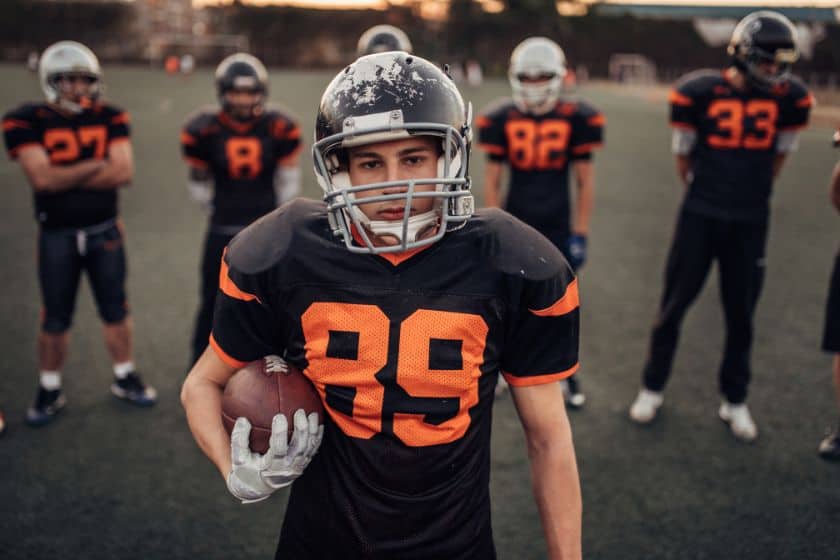 OTAs are mandatory in NFL, but there are no such stern requirements in youth football.
Leagues are free to decide the date and invite teams to take part in the practice session. Coaches of these youth leagues are also encouraged to adopt the schedule and structure of the NFL to train their players.
Endurance drills are primarily included in these OTAs, and youth players must take up these drills to develop basic skills. Perhaps, OTAs are excellent times to tune players' skills and give them a walkthrough for upcoming games. Players get acquainted with skills and field experiences. 
The practice approach in youth leagues significantly differs from the NFL. However, coaching is mandatory and has specific patterns depending on the team's requirement and league level. 
What Is OTA Violation In NFL?
OTAs should not exceed ten practices in three weeks, or the team can be fined. If players skip helmets and other safety pads, players and teams are severely penalized for the violation.
NFL has listed numerous violations concerning OTAs.
Teams can host a maximum of four practices in the last week. 
Teams are fined if they exceed ten practices in three weeks. The franchise needs to pay a hefty fine for the violation. 
OTAs should not be scheduled for ten continuous days. Schedules will have to be split across weeks based on the requirement of the league and the team. 
Practice workouts should not extend beyond 10 hours each day. 
Shoulder pads are discouraged in OTAs. As a result, fines are applied for practices that are completely padded. 
Players are permitted to wear helmets. 
There is also a no-contact rule in place, and teams must ensure that players follow them during drills and other workouts. 
Activities should not extend beyond 8:30 pm and start before 7:00 am. 
The main reason to promote the no-contact rule is to avoid potential exposure to shoulder injuries or bruises during workouts and practice programs.
If you look at non-NFL leagues, set their rules and do not adequately discuss violations. Contrarily, NFL prioritizes teams and players to focus on rules, or they are immediately fined. 
New to OTA violations? Here are some incidents to help you recollect and understand the severity:
Earlier this year, the Dallas Cowboys violated NFL rules, and the franchise had to pay $100,000 as a fine. NFL also penalizes coaches, which is evident with its decision to penalize Mike McCarthy, the head coach of the Dallas Cowboys, with $50,000. As a result of these violations, the team had to miss one practice.
Another most prominent violation happened in 2021 when the NFL penalized Dallas Cowboys, Jacksonville Jaguars, and San Francisco 49ers with different amounts according to their violations. Unfortunately, all teams had to miss several OTA days this year.
According to the NFL, a critical violation is an absence during minicamps. The punishment gets severe when a player skips a day. 
According to CBS, the NFL can fine up to $14,775 per player for one day's absence in the minicamp. If players skip the second day, third day, or all days, fines are $29,550, $44,325, and $88,650, respectively. 
Head coaches are fined $100,000 and $250,000 for first and second violations, respectively. Likewise, teams are fined $250,000 and $500,000 for first and second violations, respectively. Several head coaches and teams discuss and negotiate fines with the NFL Players Association whenever required. 
How Long Are NFL OTA?
NFL OTAs happen for up to 10 days and on the third phase.
What happens in each phase? Here you go!
The first phase includes a strength and conditioning session, rehabilitation, and group meetings to discuss strengths and weaknesses.
The second phase includes individual and group workouts on the field.
The final phase focuses on OTAs, and these activities discourage personal contact.
Training camps in OTAs include different forms of practice. For instance, teams can conduct two consecutive practices on the same day or extend them across multiple days. During these camps, coaches also encourage full-padded events to familiarize players with different methods and strategies. Another reason to choose a range of workouts is to assess the player's strengths and capitalize on them while minimizing weaknesses as much as possible.
Some OTAs are not mandatory. The mandatory minicamp is compulsory for all players. However, other OTAs are optional, and players can choose their timelines and preferences. 
Do Players Get Paid For OTA (SH)
Players do not get paid for OTAs unless franchises mention workout bonuses being offered in their contracts.
OTAs are mandatory for players to enhance their physical and mental health conditions throughout the game. Coaches and veterans should also participate in these OTAs and closely work with players in planning strategies. 
Perhaps, players attending OTAs might get stipends or workout bonuses based on the decision of the franchise.
My Favorite Football Equipment
Thanks for reading this article. I hope it brought you great value you can implement in your life. Finally, below you can find my favorite football equipment that I think would serve you well on the field!