What Is A Putout In Baseball? (MLB Putout Leaders Revealed)
Baseball is becoming a game of stats. Whether you are evaluating a baserunner, a fielder, or a batter, you might hear several stats like strikeout, putout, and shutout. Some statistics in baseball can be complex and confusing. But when you know how each of them works, the entire game gets more interesting than ever. Let us understand what a putout in baseball is.
When a fielder records an out by a forceout, a third strike, or tagging a runner, he is credited with a putout. Basemen score maximum putouts, and catchers follow them. An unassisted putout is credited when the fielder gets a ground ball and tags a runner.
Major League Baseball (MLB) has drafted several rules explaining the right way to apply putout to evaluate the fielder. As a baseball fan, you need to understand these rules and conditions to assess your favorite player next time.
How Does Putout Work In Baseball?
A fielder is credited with a putout when he records an out in these conditions:
Forceout or stepping onto the base
Catching a ball
Catching a third strike
Tagging a runner
The nearest defender during an interference
The commonality is that an out is recorded only against a runner or a batter.
Let us get into detail about each of these conditions.
A forceout involves multiple fielders. When a fielder throws the ball to out a batter, the baseman scores the putout and the shortstop scores an assist. These two variables are often used interchangeably, but they don't mean the same.
The following situation is a strikeout. During the final strike, the catcher catches the ball. Whenever a pitcher gets a strikeout, the catcher gets a putout. However, dropped third strike does not credit the catcher with a putout.
Flyball is another condition when the catcher catches the ball in the air. It can also include balls within infield popups and line drives.
Tagging a player is another condition when a batted ball is not required. In this case, the runner is charged for stealing the ball, leaving the baserunner with an additional putout score.
Rules Of Putout In Baseball
Rule 9.09 presents rules meant to credit putout to a fielder during flyball and tag play and catcher during callout of batter for bunting foul, illegal batting, and strikes. The rule also assigns automatic putouts based on various criteria.
There are three primary rules of putout in baseball as set by MLB.
The first rule explains three conditions when a fielder scores a putout, and these include:
Foul or fair catching of a ball
Catching a ball and tagging the base
Tagging a runner
The second rule explains eight scenarios when a catcher scores an automatic putout, and these include:
Batter callout for bunting foul
Batter callout for strikes
Batter callout when illegal batting happens
Batter callout due to batting failure
Batter callout for interference
Batter callout for touching his ball
Batter callout for denying first base touch
Runner callout for denial of advancement to home plate from the third base
The third rule explains conditions when an official scorer holds the right to credit the player with automatic putouts. These situations include – infield fly, running out of line, runner touched by the fair ball, runner passes another runner, running bases in reverse, and runner-fielder interference.
In these cases, the official scorer credits the putout to respective runners or fielders. Interference is a common condition when a putout is automatically credited. Rule 9.09 also contains exceptions. For example, when a fielder contacts a ball thrown and reaches the base, the fielder gets a putout. During a bunting foul, rule 9.15(a)(4) is also applied to assign putout appropriately.
These rules guide official scores, fielders, catchers, and batters to expect putouts during different situations. 
Who Gets A Putout For A Strikeout In Baseball?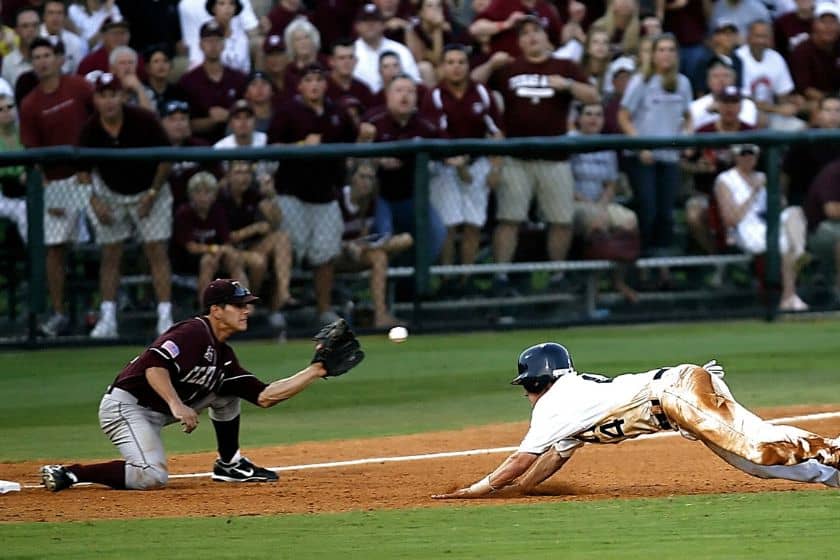 A catcher gets a putout for each strikeout except for a dropped third strike or incomplete player tag.
It is common in baseball to reward a catcher with a putout under various circumstances, including during a strikeout. However, every strikeout does not increase the score of a putout of the catcher.
When the catcher cannot achieve an out during a dropped third strike, a putout is impossible. On the other hand, when the catcher cannot fulfill the tag, the catcher throws the ball to the first batsman, who receives the putout.
Catchers have a strong influence on strikeouts, and they are closely linked to pitchers.
Baseball Putout Vs. Assist
When the fielder gets in contact with the ball and completes an out, it is a putout. But when a fielder contacts a ball before another fielder completes an out, it is an assist.
An assist score is not assigned to a fielder during a putout. However, when a fielder tries to touch the ball even before another fielder touches it, it increases the assist score. Perhaps, it can be an intentional touch. Sometimes, a double play results in two assists.
When an offensive player gets an out, a putout is assigned, but when he contributes to the out, it increases the assist score as per MLB scoring rule 10.10. Rule 10.09 explains conditions when a player is credited a putout score.
Putout and assist are interrelated for one reason: a player receives an assist only when a putout is made. Contrarily, assist is not essential for a putout. This also means that one play can include several assists and only one out.
Here is a video where you can differentiate assist and putout:
This is the case of a triple play where multiple outs are recorded. Every out in this play means a putout. When the ball reaches the third base, the baseman gets an out and then throws it to the baseman on the second base. This continues to the first base.
If you still face difficulties differentiating the two, here is another scenario.
Let us assume that a batter hits the ball and moves on to the second base. In this case, the first fielder tries to get in touch with this ball. Although he is not the one who has initiated an out, he still has an opportunity to throw it back to the batter.
In this scenario, the batter who initiated an out by tagging the base gets credited with a putout. The first fielder gets an assist score.
What if the ball reaches the shortstop? The assignments of scores are the same. All that matters is who initiates an out and gets in touch with the ball.
Return to the video to check your understanding of these terms in a triple play. 
What Positions Get The Most Putouts In Baseball?
Basemen get the maximum putouts, and catchers follow them. A team comprising of basemen and catchers increases the chances of winning.
In formulating a team, it is essential to include more basemen and catchers that can record putouts and upgrade the team's status.
A catcher gets a putout whenever he catches pitches and gets a strikeout. However, first basemen get put out whenever they catch throws.
Pitchers rotate the ball; hence, they cannot add up to the team's success. It is essential to stack up first basemen as they record outs on flyouts and grounders.
Related: 9 Baseball Positions (Ultimate Guide & Required Traits)
MLB Putout Leaders
Jake Beckley tops the list of MLB putout leaders with 23767 putouts, while Cap Anson and Ed Konetchy follow with 22572 and 21378 putouts, respectively.
Here is the list of the top 7 MLB putout leaders, along with the number of innings played by each.
| Player name | Putout | Number of Innings Played | Hall of Famer? |
| --- | --- | --- | --- |
| Jake Beckley | 23767 | 20857 | Yes |
| Cap Anson | 22572 | 22296 | Yes |
| Ed Konetchy | 21378 | 18416 | No |
| Eddie Murray | 21265 | 21201.2 | Yes |
| Charlie Grimm | 20722 | 18829 | No |
| Stuffy McInnis | 20120 | 18153 | No |
| Mickey Vernon | 19819 | 19611.2 | No |
MLB Putout Leaders
MLB Yearly League Putout Leaders
MLB records putout leaders every year separately for every league, including the American and National Leagues.
Here is a list of yearly league putout leaders for the last five years in two leagues – The national and American Leagues.
American League
| Year | Player name | Putouts |
| --- | --- | --- |
| 2022 | Nathaniel Lowe | 501 |
| 2021 | Nathaniel Lowe | 1164 |
| 2020 | Jose Abreu | 430 |
| 2019 | Roberto Perez | 1082 |
| 2018 | Matt Olson | 1403 |
American League Yearly League Putout Leaders
National League
| Year | Player name | Putouts |
| --- | --- | --- |
| 2022 | Josh Bell | 534 |
| 2021 | Freddie Freeman | 1252 |
| 2020 | Freddie Freeman | 427 |
| 2019 | Freddie Freeman | 1296 |
| 2018 | Paul Goldschmidt | 1323 |
National League Yearly League Putout Leaders
There are several similarities in putout scores in both leagues.
MLB Position-based Putout Leaders
| Position | Career Leaders | Putout |
| --- | --- | --- |
| Pitcher | Greg Maddux | 546 |
| Catcher | Ivan Rodriguez | 14864 |
| Shortstop | Rabbit Maranville | 5139 |
| First base | Jake Beckley | 23755 |
| Second base | Bid McPhee | 6522 |
| Third base | Brooks Robinson | 2697 |
MLB Position-based Putout Leaders
Basemen score maximum putouts. The first baseman, Jake Beckley, has achieved the highest number of putouts – 23755. After the first baseman, the catcher, Ivan Rodriguez, scored the second-highest number of putouts – 14864.
Related Articles
My Favorite Baseball Equipment
Thanks for reading this article. I hope it brought you great value that you can implement into your own life! Below you can find my favorite baseball bat, baseballs, and a glove that I think will take your game to the next level!