Full Table Tennis Equipment List: All You Will Ever Need
When you think about table tennis, you instantly get a picture of the racket and ball to your mind, but those certainly aren't all the equipment table tennis athletes use. There are so much more than you can slightly improve your game with, increase the durability of your equipment, and ways to keep them safe.
In this article, I will teach you all the different table tennis equipment that one might use, what they are used for, and the best ones in each category. But first, let's take a quick intake on what are the different table tennis gear?
There are four pieces of equipment that you need to play table tennis. These are the racket, ball, table, and net. In addition to the essentials, there are other equipment such as table tennis robots, racket cases, and boosters. Finally, there is the clothing that includes shoes, shorts, and more.
As you can see, there are many things a table tennis player might use but believe me; there are still much more.! Now that you have a clear idea of where I'm taking you let's move on and start with the essentials. First, the racket!
Related: Is Megaspin Legit?
Racket, Paddle, Bat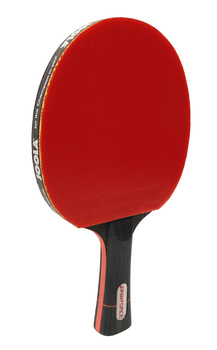 The ping pong racket, paddle, bat, racquet, whatever you want to call it (officially racket) is the piece of equipment you use to hit the ball. There are three main kinds of rackets that a table tennis athlete can either buy as a whole or separate, where rubber and blade are bought separately. These rackets are in the following 3 categories:
Defensive table tennis racket: Soft blade and thin rubber 1.2-1.6mm
All-round table tennis racket: Between defensive and offensive, rubber thickness 1.6-1.9mm
Offensive table tennis racket: Hard blade and thick rubber +2mm
Most table tennis rackets are either all-round or offensive rackets; however, many people use a defensive rubber on the other side of the racket to quickly flip the racket and change the characteristics of how the racket will receive the ball.
I have an in-depth article where I teach how to choose the right racket for you and recommend the 10 best ones for each situation. I highly recommend that you check it out!
Now, let's take a closer look at blades.
Blade
The blade is the core of the racket. It's constructed mainly from wood, but it can contain some carbon layers as well. There are many things that the ITTF Handbook regulates about the blade, but the most important thing to understand is that it can be of any size, shape, or weight, but the blade needs to be flat and rigid. Also, the blade needs to be constructed with at least 85% of natural wood.
There are many mixtures of wood and different carbon composites to alter the characteristics and hardness to be altered to different playstyles.
In addition, the blade has a handle that has different styles as well. The 4 main types of handles are:
Straight: The handle is straight
Flared: The handle widens from towards the bottom
Anatomic: The handle has a wave in the middle for better grip
Penhold: The handle is shorter than usual. Only fit for players using penhold grip instead of shakehand.
There are many things that a player can do to care for the blade, such as varnishing the blade, and it's important to do so because professional blades can cost +300 or more.
Now, let's move on to the rubber.
Rubber
The rubber is the part that you use to cover the blade with. I go over the characteristics of rubbers in-depth in my article about how to choose the best table tennis racket, but below, you can see what the 4 main types of rubbers are.
Inverted rubber: By far the most common rubber. Pimples are against the blade so it's smooth in the inside.
Short pimple rubber: Bumpy surface with short pimples, also known as pips. Great for all-round & defensive playstyles.
Long pimple rubber: Same as short pip rubber but with longer pimples. Great for defensive playstyle and receiving spin.
Antispin rubber: Equipped with extremely soft sponge and soft surface. Slows down the opponen's strikes and spins drasticly. Always used only in one side of the racket.
In addition to the different kinds of rubbers, inverted ones can have different tackiness levels. The more tacky the rubber is, the more spin it can generate.
Finally, there are many different colors to rubbers, but ITTF regulations state that the rubbers must be black on one side and red on the other. If you want to know why that is, you should read my article why are table tennis rackets red & black.
Sponge
Finally, there is the sponge. Usually, when you purchase a rubber, you can select a different sponge thickness to it or whether it comes with one at all.
As quickly hinted above, the sponge thickness greatly determines how much speed, control, and spin the racket will have. If you're not an experienced table tennis player, then I highly recommend that you get an all-round racket with a sponge thickness of 1.6-2mm. Stiga Evolution would be a great choice for most players.
Let's move on from the racket to the ball!
Ball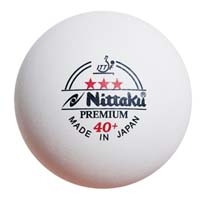 There are many kinds of table tennis balls to choose from. However, if you want a quality ball fit for tournament play, you need to get a 3-star ball. I'll explain what does this means.
Ping pong balls are graded with stars from 1 to 3, 3-stars being the highest. In addition, there are training balls and fun balls that can produce little to no sound, glow in the dark, help with spin training, etc.
All balls that have been approved by the ITTF for tournament and competition play are 3-star balls. This means that they have passed all the required tests that need to be done in the production phase. These include:
Weighing
Roundness
Hardness
Below you can see the ITTF regulations considering the ball:
The ball shall be spherical, with a diameter of 40mm.
The ball shall weigh 2.7g
The ball shall be made of celluloid or similar plastics material and shall be
white or orange, and matt.
Learn more: How To Choose Table Tennis Balls
Table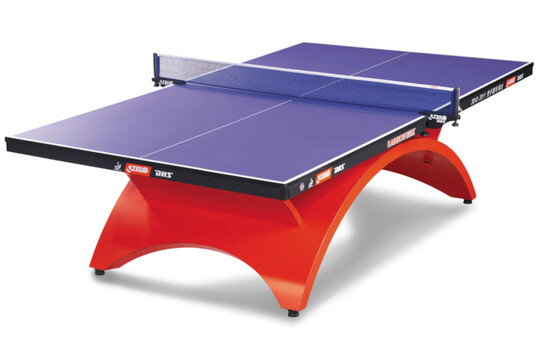 When it comes to table tennis tables, there are two kinds: Indoor and outdoor. Given that table tennis is mainly an indoor game, there is a wider selection of indoor tables, but some brands such as Cornilleau offer high-quality outdoor tables. Let's take a look at indoor tables first.
Learn more: 13 Best Table Tennis Tables (Table For All Needs)
Indoor
There are many differences between indoor and outdoor tables; however, the main difference is the tabletop.
Indoor tabletops are often made of wood, medium, or high-density fiberboard. These materials don't stand weather very well, so that's why there are outdoor tables as well.
The tabletop thickness is the most important part to look at when choosing a table tennis table. The thickness of a tabletop varies between 12mm-25mm, and the thicker, the better. This drastically affects the ball's bounce, and all competitive matches are played with a table with a 25mm tabletop. Of course, the thicker, the pricier as well.
Tables also consist of the undercarriage, which is often made from steel; however, there are also wood, plastic, glass, and you name it. Some of them can be quite beautiful, such as with the DHS Rainbow, one of the most beautiful professional tables out there.
Outdoor
When it comes to outdoor tables, they are often constructed of aluminum, melamine, concrete, or steel. The bounce isn't as good as with indoor table materials; however, recreational players hardly can spot the difference if they don't try to.
Outdoor tables are a must if you buy a table for outdoor play because indoor tables will get ruined in no time. In addition to the material differences, outdoor tables are often heavier, equipped with bigger wheels, and the net & post is weatherproof.
This takes us to the next subject and the last essential piece of equipment to play table tennis. Net & post.
Net & Post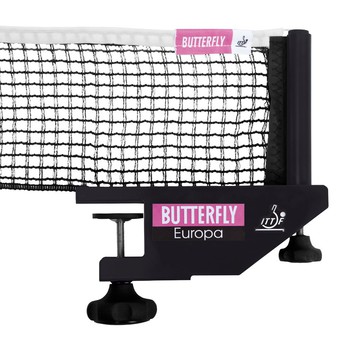 There are many kinds of net & posts that you can install into your table. The 3 main types are:
Retraceable nets: Easiest & fastest net type to install. Least stable.
Clip-on nets: Also easy & fast to setup and are quite stable.
Professional clamp nets: ITTF regulation net that needs to be used in pro cometitions. Takes time to setup but are extremely stable.
In addition to these net types, there are pre-affixed nets often found in outdoor tables constructed of metal, etc. Personally, I hate these nets because when you hit it with the ball, it shoots off to god knows where.
The ITTF Handbook has regulations considering the net as well; see them below.
The net assembly shall consist of the net, its suspension, and the supporting posts, including the clamps attaching them to the table.
The net shall be suspended by a cord attached at each end to an upright post 15.25cm high, the outside limits of the post being 15.25cm outside the sideline.
The top of the net, along its whole length, shall be 15.25cm above the playing surface.
The bottom of the net, along its whole length, shall be as close as possible to the playing surface and the ends of the net shall be attached to the supporting posts from top to bottom.
The nets are often made from cotton material or nylon. The adjustable screws and posts are often made from metal or plastic.
Other Equipment
The above 4 main types of equipment (racket, ball, table & net) are all that you need to play table tennis. However, there are dozens of other equipment that you might need at some point or simply would want to enhance your game and training. Let's take a look at them.
Table Tennis Robot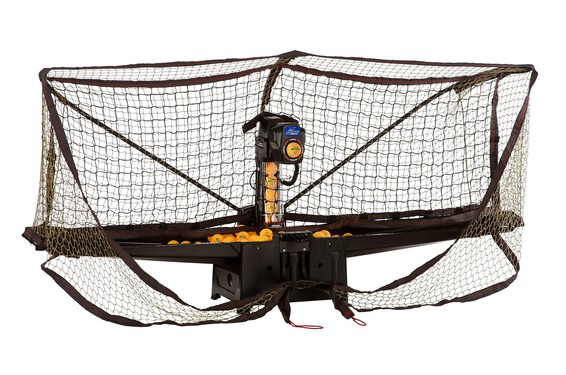 Table tennis robots are a fairly new invention when comparing to the other items in this list; however, it has quickly risen to one of the most important training equipment in proper table tennis clubs or even homes.
There is a huge selection of table tennis robots available. You can get great basic table tennis robots for $150-$300. On the other hand, there are also advanced table tennis robots available that can go up to $2000 or more!
Table tennis machines are a great addition everywhere if you want to train alone or get precise spin training, or you name it. Depending on the model, you can do virtually anything with it, which is why they are so popular.
The only thing to left to think about is that are table tennis robots worth it?
Catch Net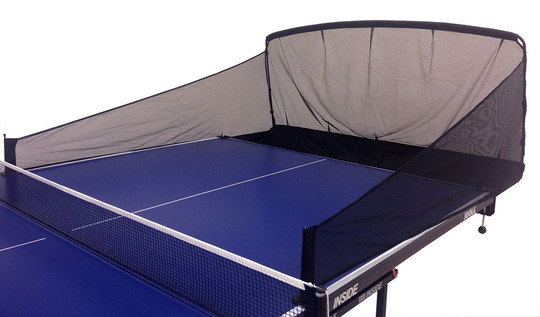 If you are training with a table tennis robot and it's a model that can shoot them at a high pace, you will definitely need a catch net. Catch nets are nets placed behind the table tennis robot or more like the other side where you are so that the balls don't drop off the table.
This is a great aid when you want to get your balls back, and you don't need to waste 10minutes each time locating each ball off the floor.
Table Cover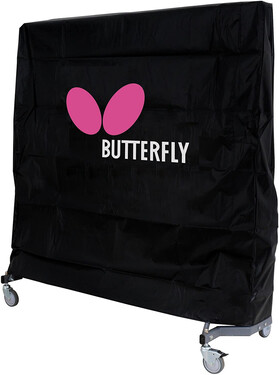 Table covers are essential no matter what. Even if you have an outdoor table, you should protect it when you know it won't be used in a while.
Table covers are like hoods that you put over the table. Then they will protect the table from weather, scratches, sunlight, dust, debris, and you name it. Check out my recommended table covers below!
Learn more: 5 Best Ping Pong Table Covers (Full Guide)
Ball Caddy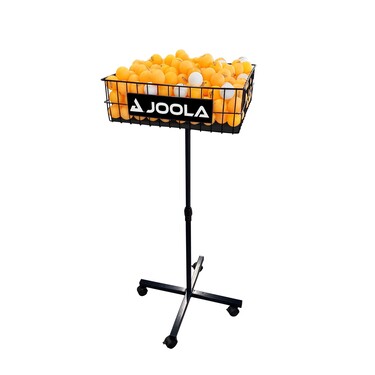 If there only would be a way to hold a ton of balls next to you while training… Wait, there is! Ball caddies are extremely helpful when you need to keep dozens of balls easily reachable. Most ball caddies have large nets and even wheels for easy transportation around the area.
Ball picker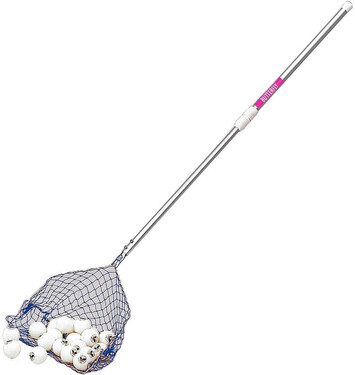 Ball pickers are like huge aquarium nets that you can use to pick up balls. These usually cost somewhere near $20-$30, and they will save you a lot of time where your back would be bent. Thus, it's a wise investment for the long run!
Racket Case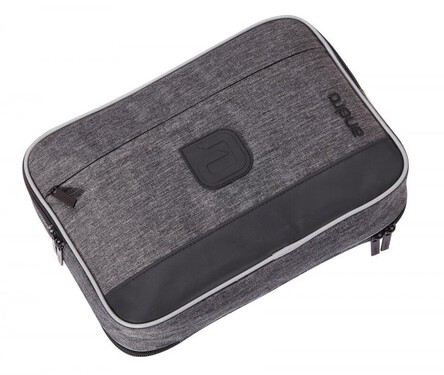 It's essential to keep your most important piece of table tennis equipment well-protected. Racket cases are meant precisely for that, and they can keep your racket safe from hits, bumps, moisture, sunlight, and you name it.
Protective film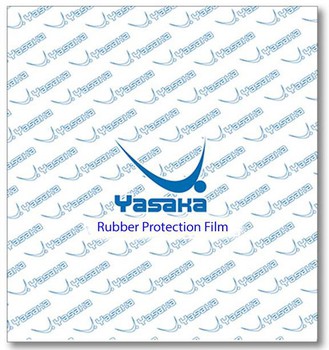 Much like a racket case, a protective film is used to protect your racket. In fact, it's specifically designed to protect your rubber by wrapping the film and placing it gently on your rubber.
This way, the rubber is protected from scratches, dents, moisture, and high temperatures. I highly recommend you using one from time to time, especially if you have a quality racket!
Cleaner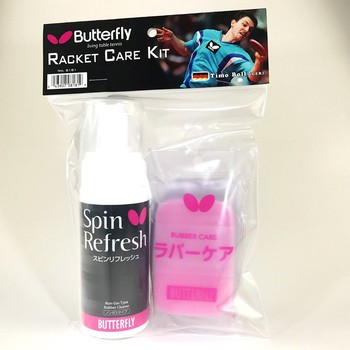 It's important to keep your equipment clean, which will increase their lifespans. Cleaners are used in the table tennis racket's rubber by spraying the cleaner into the sponge and gently rubbing and wiping the rubber.
This is done because it will maintain the rubber's characteristics and tackiness so that it will be in a good playing condition longer. Butterfly is a great brand to trust in cleaners, as it is in all table tennis equipment.
Booster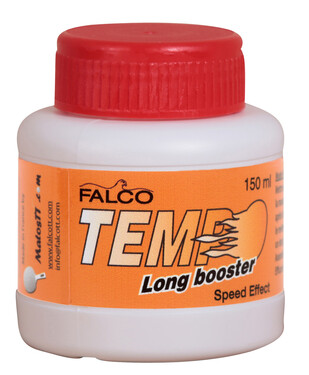 Boosters are an interesting way to literally boost your performance. They are used by adding a layer or two to the rubber, which will then increase speed, spin, and the overall feel and control of your game. Oh, and the booster is added to the sponge, between the blade and the rubber itself.
However, you should know that boosters aren't allowed in competitive tournaments in most cases, so they are only used for training and recreational play. Still, they are a great addition if you want to train your confidence.
Glue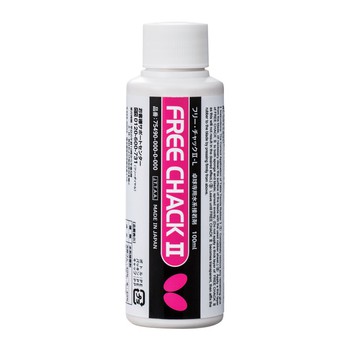 Without glue, you can't place the rubber into the blade if you buy them separately, so it's safe to say that glue is essential. Different glues might have different properties, but overall, it's important to get one easily removed from the blade, which is why you should varnish your blade.
Also, different glues have different bond strengths and different optimal rubbers. For example, this glue is designed specifically for SpinArt and Tenergy series rubbers.
If you want to see my top 5 recommended types of glue and a buyer's guide, I highly advise that you check out my article about it.
Side tape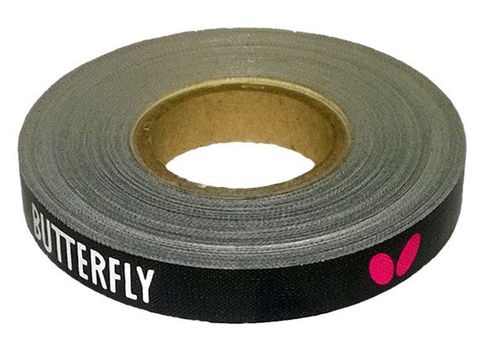 Then there is side tape used to protect the rubber and sponge from the sides if it doesn't already have tape and the blade itself. Using side tape is essential, especially if you wield a quality rubber and blade whose total sum can cost hundreds of dollars.
This way, a slight bump or hit to the side doesn't chip your blade, nor won't it make your rubber warp from the sides.
Clothing
If you thought we are done here, you are wrong. There are various equipment that you can and should wear especially when playing at a competitive level. Shoes being essential here. Let's take a look!
Shoes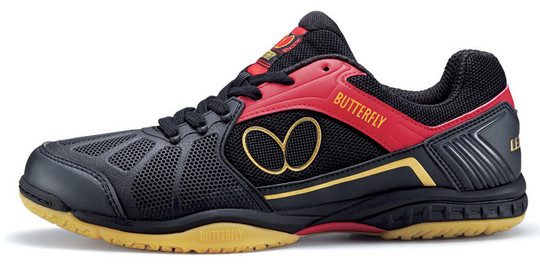 If you are a beginner, table tennis shoes aren't necessary because they really don't improve your performance yet. However, if you are a beginner but train seriously for hours in a row, table tennis shoes would be worth it.
What is the difference between table tennis and regular sports shoes, you ask? Table tennis shoes are specifically designed for table tennis, so the footwork, shock energy, grip, and everything have been taken into consideration with these shoes. Thus, they are really useful, and I can say from personal experience, there is a difference.
If you are interested in table tennis shoes, I have an in-depth article about choosing a pair and the 7 best shoes fit for different people. Check out my article, and you will be glad you did!
Activewear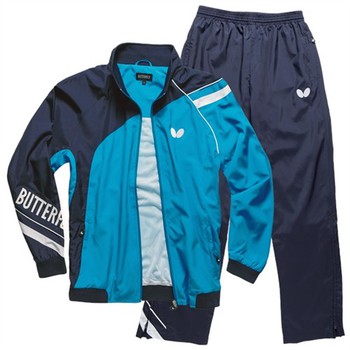 Then, of course, you will need to wear something, or at least I hope you think that way. Anyways, there are shorts, skirts, t-shirts, socks, caps, suits, and more to wear, so at least the choices aren't super limited.
Personally, I like to wear light shorts, a t-shirt, and a cap depending on where I'm playing. Also, I might use a headband if I'm taking things seriously, which takes us to the next subject.
Head & Wristbands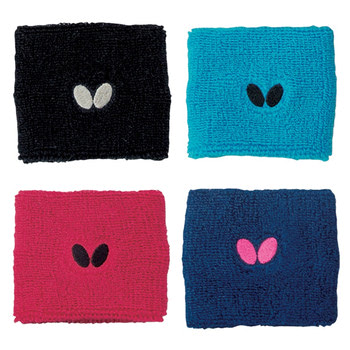 Headbands are great for keeping your hair out of your sight and soaking the sweat from your forehead so that nothing will disturb your performance. On the other hand, wristbands are great for quick sweat removal without getting your palms and racket's handle all sweaty, which would certainly affect your grip, performance, and focus.
Bags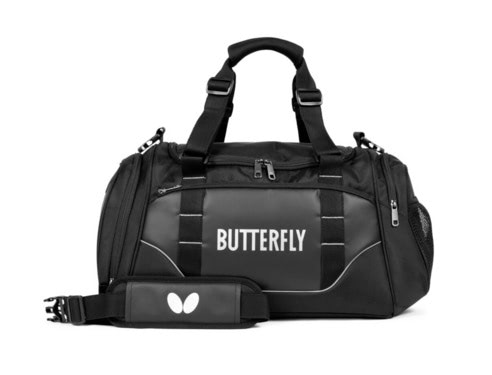 Finally, there are bags where you can carry all of your gear, including the racket, balls, boosters & cleaners, shoes, clothes, water bottles, and personal items. Those equipment are vital for table tennis, so it's safe to say that so are bags.
There are different sizes and types to choose from. For example, there are light string bags, stylish shoulder bags that are my favorite, duffle bags, and even trolleys. Of course, you can use a bag of your choosing, but I do like table tennis bags myself.
Conclusion
As you can see, there is much more to consider in addition to the racket, balls, table, and nets. Some equipment on this list is beneficial, important, and even necessary when others are optional and unnecessary. In the end, it's everyone's personal choice what equipment to use and what not.
I hope that this article was useful to you and you learned at least a couple of new equipment and got increased knowledge from the essential ones.