Soccer Vs. Softball Cleats: What's The Difference?
When you first think about soccer and softball cleats, you might think that tare isn't much or at all differences between the two. However, this isn't the case. There are many vital and not so vital differences that you must know to understand the best features for your sports. So, what are they?
The biggest difference between soccer and softball cleats is that soccer cleats are often lighter and smaller and won't provide as much lateral support. Also, the cleats are shorter and made from plastic, whereas softball cleats can be metal and are longer. Generally, softball cleats are cheaper as well.
These differences are important because, on both shoes, their features make the performance on a field optimal as they are specifically designed for them.
To further understand these differences that I mentioned and some others that were left unmentioned, stick with me and learn exactly the difference between soccer and softball cleats!
Differences Between Soccer and Softball Cleats?
In essence, there are seven main differences between soccer and softball cleats. Some of them are more important than others, but all of them are worth mentioning and knowing. Let's start with one of the biggest, size and weight.
1. Size & Weight
When you put soccer and softball cleats side by side, it's pretty obvious which one is a softball cleat.
Softball cleats are the bigger and heavier ones, as there are bigger designs available, and the support is better, meaning that there is more supporting material on the shoe. This results in both bigger and heavier shoes.
Soccer cleats need to be as lightweight and mobile as possible, and superior support isn't really necessary for the sport. Thus, they are smaller and lighter.
2. Support
The support on softball shoes is more towards ankles and the whole feet, really, whereas in soccer, the support isn't as drastic. That's why you can find both high and low top cleats for softball, but only low tops for soccer.
Softball is a sport for more side-to-side movement, sudden turns, sprints, and so on when compared to soccer. This is why softball cleats have more material on the sides of the shoe, giving extra support. There are often more spikes as well for extra traction.
In soccer, the movement is more linear as there is so much running in a straight or semi-straight line, so the support is geared towards that movement. Unnecessary material would increase the weight of the soccer shoes, making you slower, which isn't an option in soccer.
3. Comfort
There aren't any huge differences in terms of comfort when it comes to soccer and softball cleats.
However, metal cleats aren't often as comfortable as plastic cleats. Given that metal spikes aren't allowed in soccer, they tend to be more comfortable than softball cleats.
Without forgetting the huge difference that manufacturers, brands, and price points have, both cleats have pretty much the same comfort except when comparing different cleat materials.
4. Cleat positioning
Softball has cleats on the front, football don¨t. In football, front cleats could be hazardous to others and would make ball control difficult.
Cleat positioning is also different. Soccer cleats are placed all over the area of the outsole, whereas in softball, they are placed more systematically around the heel, middle section, and toe. Too systematic and even cleat placement on soccer cleats would give too much traction, slowing down the player, which isn't something you want.
In addition to the slower play, football is a sport of sudden movements and turns, and too much traction would stress out the legs, especially the knees, too much that they would get injured sooner than later.
5. Cleat material
Generally, there are two-cleat materials to choose from: metal and plastic. Soccer cleats are almost exclusively made from plastic. I have seen soccer cleats with metal spikes, but I highly recommend that you stay away from them both for yourself and others' sake, as they are too dangerous for soccer.
You can find both metal and plastic spikes for softball cleats, and there aren't any regulations for the cleat materials. Often, metal cleats are used by professionals and plastic cleats by beginners, but not always. More on metal and plastic cleats later!
6. Durability
Durability is another difference that widely depends on the usage time, cleat quality, and positions played. On average, soccer and softball cleats have a similar lifespan. Let me explain why.
Softball cleats can wear out rather quickly, as there is dirt involved which is very rough compared to a grass field. This is especially true with plastic cleats, so consider metal cleats for softball if you want to best durability.
On the other hand, soccer cleats are used on a grass field (usually), which isn't rough on the cleats. However, the thinner and more lightweight material wears out faster than its own compared to a bulkier construction of a softball shoe.
These variables usually cancel each other out, making both softball and soccer cleats last approximately the same time.
7. Costs
There are so many variables when it comes to the cost of cleats. For example, the brand, quality, materials used, cleat type, and so on can make a difference of hundreds of dollars.
On average, however, softball cleats tend to be slightly less expensive than soccer. This may be the outcome of many reasons, but the publicity of the world's played sport, soccer cleats, can drive up the prices slightly more. Especially when there isn't that much equipment on the list that a soccer player needs compared to an arsenal of softball gear.
To give you an easy-to-scan recap of what you learned, check out the table below to see how the different features divide between softball and soccer cleats.
| | | |
| --- | --- | --- |
| Feature | Softball Cleats | Soccer Cleats |
| Size & Weight: | Bigger & Heavier | Smaller & Lighter |
| Support: | Ankle support focused | Back to front motion focused |
| Comfort: | Similar | Similar |
| Cleat length: | Longer | Shorter |
| Cleat positioning: | Systematical | All over |
| Cleat material: | Metal & plastic | Mostly plastic |
| Durability: | Similar | Similar |
| Cost: | Slightly less expensive | Slightly more expensive |
Differences Between Softball and Soccer Cleats
Metal or Plastic Cleats?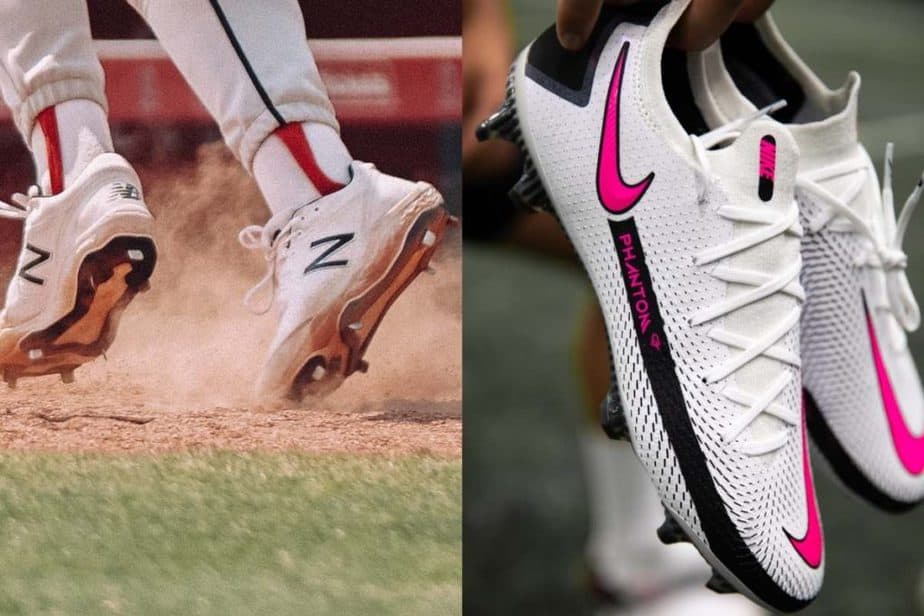 As I have already revealed some information about the subject, it's time to go through it properly. There are some notable differences between metal and plastic cleats, so I'll explain both of them, their pros, and their cons. Depending on what features you want on your cleats, metal or plastic ones might be the right for you.
1. Metal
Metal cleats are clearly more rigid and dangerous-looking. Also, they look cool as well. There are many advantages to metal cleats offer plastic cleats that you should know about.
Here are some of the best features on metal cleats;
Penetrates the ground deeper giving more traction
Will last longer than plastic cleats
Generally best for serious play
These features make metal cleats more popular amongst serious players and professionals. They give the maximum traction which is very important on everything you do in softball. By the way, metal cleats can't be used on artificial turf softball fields as they will destroy it fast.
In soccer, metal cleats are forbidden as when you step on top of your opponent's foot and you will, it would do some serious damage. Think about it, if a molded cleat hurts like hell and can make bruises and chafes, a metal spike would be so much worse.
2. Plastic
Plastic cleats, also called molded cleats are different than metal cleats in many ways. There are different features that plastic cleats are better for, and if you recognize yourself from the following, they might be just what you need.
The following are the best features on plastic (molded) cleats;
Won't penetrate the ground so deep, giving less traction
Quiet and non bothering
Aren't as dangerous as metal cleats
As metal cleats are forbidden in softball, naturally, plastic ones are the go-to choice for softball. Not only for safety reasons, but they won't add too much traction and are more lightweight which is exactly what soccer needs.
Lightweight and less traction might be something that you want for softball as well, so if that's the case, consider getting plastic cleats! However, plastic cleats can't be used on artificial turf softball fields either. Even though they won't damage as much as metal cleats, the damage is still too fierce!
Can You Wear Softball Cleats for Soccer?
As there are many differences between softball and soccer cleats, the question is bound to pop onto your head, can you wear softball cleats for soccer?
If your softball cleats are metal, then you can't use them for soccer as most soccer leagues won¨'t allow metal cleats as they possess too big of a health risk. However, if you have molded cleats, then you can use them for soccer, but depending on the exact cleat, it may or may not be optimal for soccer.
As you learned above, weight, size, and support differences greatly affect how well your softball cleats would be for soccer. Generally, if you have low-top cleats that are smaller than the average softball cleat and have plastic cleats instead of metal ones, then yes, you can use them for soccer.
However, heavy long top cleats would make your performance on a soccer field rather slow, so even when you can use such cleats for soccer as well, it would slow you down. Whether this is a problem for you depends on how seriously you take soccer in the first place.
Can You Wear Soccer Cleats for Softball?
So, you often can't wear softball cleats for soccer, depending on the shoe's features. However, can you use soccer cleats for softball?
You can use soccer cleats for softball as no reasons or rules are stating that you can't. However, soccer cleats differ from softball cleats, making them lack certain features. For example, soccer cleats don't have as good traction, lateral support, or durability as the average softball cleat does.
So, where it comes down to again is your personal preferences and performance wishes. If you don't really care and are a hobbyist, then, by all means, use soccer cleats for softball.
On the other hand, if you like to maximize your performance, traction, and durability, I suggest getting proper softball cleats such as the Under Armour Women's Softball Shoe with metal cleats, breathable materials, and design, and extra cushioning for ultimate comfort.
What Type of Cleats is Best for Softball?
Given that there are many variations between softball cleats and many positions that require different traits, what type of cleats are the best for softball?
The best cleats for softball should be chosen by the position you play and the desired features in mind. For best traction, choose metal cleats. For great traction yet more comfortable and lightweight, choose molded cleats. For the best comfort, safety, and lightweight, choose turf shoes.
In one of my recent articles, I went through turf shoes vs. cleats for softball & baseball, and turf shoes are often better than cleats. For the ultimate guide, I highly recommend that you read the article.
Now, to give you a good idea of where different softball shoes are best, I have listed the three types of shoes below.
Metal Cleats – Have the best traction of all softball shoe types as they dig deep on the ground. Metal cleats are more durable than molded cleats, as plastic wears off faster. In addition, there are fewer spikes on metal cleats as there are on molded ones, and they are longer thinner as well. Metal cleats are very popular amongst professional players.
Molded Cleats – Are designed with shorter and thicker spikes, so they don't penetrate the ground as much, giving them less traction than metal cleats. Usually, molded cleats are also lighter than metal cleats. Oh, and as there are more spikes on molded cleats, they are more comfortable to wear. Molded cleats are very popular amongst beginner players.
Turf Shoes – These are by far the most comfortable, safe, and less field damaging option of the shoe options for softball. Turf shoes aren't equipped with spikes, but dozens of small rubber studs give them good traction, yet not as good as cleats. Turf shoes are very popular for artificial turf fields, training, and non-professional games.
Keep these things in mind, and you will find the best shoes for your softball sessions. A couple of things you should note, though.
You can use all three shoes for every situation if they feel good on you, and your performance isn't worse than with other shoes. However, using cleats on the artificial turf field isn't possible as they will quickly destroy the surface.
My Favorite Softball Equipment
Thanks for reading this article. I hope it brought you great value that you can implement into your own life! Here are my top softball equipment recommendations that I think will take your game to the next level.