Mouthguards And Football: 12 Fascinating Facts
When you think of football as a sport, it shouldn't become a surprise that mouthguards are mandatory for it. All the hits, tackles, falls, and other physically unsafe events create an injury risk for your teet.
In this article, I will answer 12 commonly asked questions about football and mouthguards. Without a further due, let's take a look!
Do You Wear Mouthguards In Football?
Mouthguards are mandatory in football as these can avoid dental injuries and protect players' teeth, as per the American Dental Association and National Federation of State High School Associations (NFSH). The NFL does not mandate mouthguards, but several players still wear them. 
A mouthguard is meant to protect gums and teeth and establish a protective layer to avoid concussions and other injuries on the football field. Several other football associations also insist on wearing mouthguards as dental injuries are inevitable in football. The National Collegiate Athletic Association (NCAA) has also established a strong stand on the significance of mouthguards and the need to choose one for the league. 
The decision about mouthguards was made due to a finding made by American football associations. More than 50% of injuries till the 1950s involved teeth, and mouthguards have predominantly helped in lowering injury incidence rates and reducing the vulnerabilities of players. Hence, wearing a mouthguard is vital. 
What Is the Mouthguard In Football For?
A mouthguard in football is responsible for protecting gums and teeth from getting knocked or chipped due to a blow in the game. A mouthguard also safeguards the mouth region of a player from physical injuries.
Mouthguards are beneficial to football players in several aspects.
A mouthguard can protect the lips and eliminate the likelihood of breakage of teeth. As this is a common incident in football, it is important to maintain a handy solution to avoid chipped or broken teeth. 
Mouthguards also help players wearing braces. In general, blowing on braces results in serious lacerations. In several cases, lacerations result in long-term dental damage to the mouth and teeth. Hence, using a mouthguard while wearing braces protects braces and teeth without sticking to the brace. 
Mouthguards are well-known for acting as shock absorbers. A heavy blow to the face can fracture the jaw or its associated teeth. This can incur painful treatments to fix the region. To avoid these incidents, a mouthguard is highly recommended. 
The last and most crucial reason to use a mouthguard in football is that it costs less than emergency treatments. A mouthguard costs less than $25, protecting the entire mouth. On the other hand, emergency treatment can cost at least $300. 
These reasons are sufficient to use mouthguards in football. 
Are Mouthguards Required?
Mouthguards are recommended for contact sports like football leagues on all levels (high school, college, NBA, and NFL), while other non-contact sports mandate but mouthguards aren't required.
According to the American Dental Association, mouthguards are recommended for a wide range of sports, including soccer, basketball, field hockey, rugby, lacrosse, ice hockey, skydiving, handball, and gymnastics. Mouthguards are regarded as mandatory protective items protecting players from oral injuries.
With a steady growth of youth sports on multiple patterns, the American Dental Association highlighted that maxillofacial injuries constitute over 10% of injuries experienced by players. A mouthguard reduces the likelihood of damage to teeth and eliminates medical intervention. 
Another key aspect of mouthguard is the selection process. While there are several kinds of mouthguards, a football player should choose a mouthguard that is either custom-made by an orthodontist or made exclusively for football players. This improves the degree of protection and appropriateness of the game. It also meets the criteria of a mouthguard as mandated by various football associations.
Here are our top picks for football players:
Related: 6 Best Mouthguards For Braces: Teeth Friendly Guide
What Mouthguard Do Most NFL Players Use?
NFL players use branded 3mm mouthguards from Nike, Battle, and Shock Doctor that are breathable and easy to communicate throughout the game.
There is a strong reason to choose a 3mm mouthguard. It offers additional protection and also allows the players to yell out during the game. This mouthguard allows them to tackle better. However, NFL players (like linemen and defensive players) are recommended to use a 6mm clear mouthguard for extra protection, while a 3mm clear mouthguard is sufficient for a kicker.
The broad difference in the type of mouthguard worn by football players is due to the NFL's non-obligation. It permits players to wear any type of mouthguard.
There are two other reasons to choose a branded football mouthguard.
An over-the-counter mouthguard turns bulky at some point as it is made of inexpensive materials.
The wear and tear of a regular football mouthguard are scary compared to a branded, customized football mouthguard.
We can gain several interesting findings as we look at the recent trend in the type of mouthguards worn by football players. NFL, in its recent pilot program, involved four research universities.
Tar Heels chose smart mouthguards with numerous tiny sensors to track kinematic data. This was a new introduction to the NFL and was followed by ten other clubs in upcoming NFL leagues. 
This smart mouthguard also tracked the degree of safety based on kinematic data. On the other hand, it also improved players' performance as they focused more on the play than their safety levels. 
Also, NFL teams have chosen this smart mouthguard to monitor real-time data related to impact. Sensors fitted in their helmets are less accurate compared to mouthguards. As a result, a smart mouthguard was assumed to manage subconcussive blows and also act as a protective shield.
Irrespective of the advancement of the mouthguard, a proper cleaning routine is needed to extend its purpose and longevity. For instance, as reported by Stone Clinic, Tom Brady's mouthguard contained nasty things, but his body displayed high resistance and flexibility to withstand its effects. This might not be the case feasible with others. A clean mouthguard does the job perfectly. 
Read also: How To Choose A Mouthguard For Football? (7 Thoughts)
Why Do NFL Players Not Wear Mouthguards?
As the NFL hasn't mandated mouthguards for players, several players do not wear them. Other reasons like communication interruption, breathing issues, mouth structure, and extreme thirst are cited for not wearing mouthguards.
Several athletes don't wear mouthguards because they are uncomfortable (too tight or too loose). While there is scope for customization, NFL players cite poor quality of mass-produced mouthguards that end up in discomfort for bulky people.
Since football involves regular communication between players, it is essential to use a breathable mouthguard and make it easier to communicate. Certain mass-produced mouthguards affect breathing and lower a player's performance level. Likewise, drinking becomes a hectic problem while wearing these mouthguards. Removing the mouthguard regularly to quench the thirst remained a constraining task.
Jalen Ramsey is one such player who has never worn his mouthpiece as he was always talking and found a mouthguard to intrude his talk. 
How Many Mouthguards Do You Need For Football?
Only one mouthguard is needed for football to protect top teeth. If you have braces, you need a double mouthguard to cover your lower and upper teeth. It is recommended to replace this mouthguard twice a year, despite cleaning it regularly. 
The purpose of a mouthguard is to protect players from concussions. It is also the best method to maintain safety throughout the game. However, one size does not fit all. If you are wearing braces, you may need to protect both levels, for which you need a double mouthguard. 
Here are our top picks for double mouthguards:
Shock Doctor Double Braces Mouthguard – This is highly recommended due to its quality, ease of use, flexibility, and value for money. 
Shock Doctor Nano Double Mouthguard – This is a multi-purpose mouthguard that fits well for people of all ages and teeth sizes. 
Menoly 5 Pack Youth Mouthguard – This is an excellent mouthguard package ideal for kids as they practice football. 
Otherwise, double mouthguards are recommended for games like boxing that involve extreme blows, and players might need additional protection. 
Do Mouthguards Help Prevent Concussions?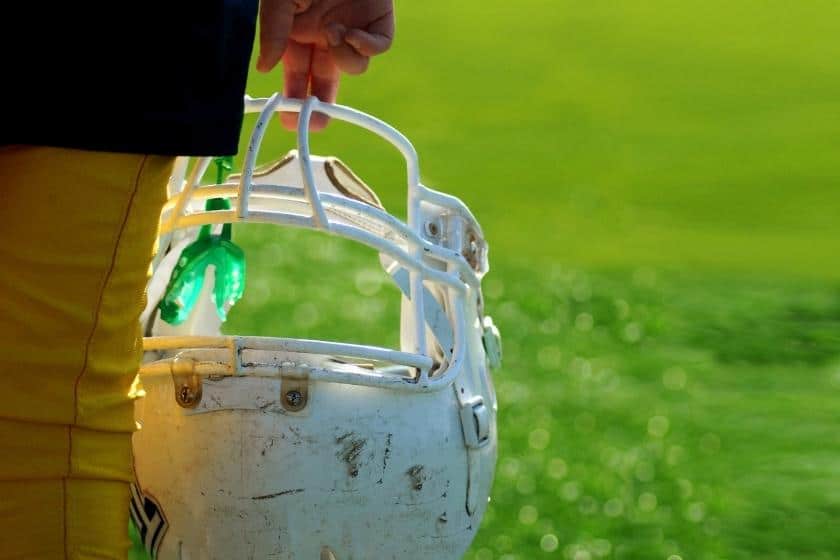 Mouthguards reduce the likelihood of a concussion by two-thirds as these protect the teeth from trauma and lower the impact of the blow. A mouthguard can prevent injuries involving the tongue, gums, lips, mouth, face, teeth, and jaw.
According to a research article, mouthguards have the potential to control spinal injuries and concussions. Perhaps, brain injuries have significantly lowered as mouthguards have reduced the pressure or blown off the ball. While mouthguards do not entirely prevent concussions, these can reduce them greatly. 
In other sports like hockey and basketball, mouthguards have reduced the impact of spinal or head injuries. However, these can't entirely prevent concussions.
With the growing trend of using mouthguards, it is believed that these can get better and improve solutions addressing specific injuries. In a news article, it is reported that NFL is taking a huge leap in maximizing safety and including sensor-based equipment to assess the exposure to impact. This change has the potential to prevent concussions and also capitalize on innovation in the game. 
Related: How To Clean A Mouthguard For Sports? (5 Proven Methods)
Do Lineman Wear Mouthguards?
Lineman needs extra protection beneath the molar surface, and hence, the player wears the mouthguard to improve comfort and cushion the molar surface. 
Linemen and heavy hitters are vulnerable to jaw injuries as they face heavy blows compared to football players in other positions. This calls for added protection to reduce discomfort and add cushion to the jaw. This approach minimizes the impact of a blow on the face.
The ideal mouthguard for a lineman is a model that protects beneath the molar region and has an additional cushion. This comforts the jaw region and improves the usage frequency among linemen. 
Do Quarterbacks Wear Mouthguards?
Professional and college football leagues require quarterbacks to wear mouthguards to mitigate concussions and improve dental protection. As NFL doesn't mandate mouthguards, a handful of players wear them. 
Several quarterbacks prefer low-quality mouthguards as these enable better communication throughout the game. However, the position of a quarterback is critical and needs complete coverage of the mouth and teeth.
The ideal mouthguard for a quarterback needs to be breathable, unrestrictive, and also lightweight. Here are the top recommendations for a quarterback – Rush mouthguard and Zero mouthguard. These models are lightweight, durable, and breathable compared to other models of mouthguards. Alternatively, a 3mm clear mouthguard is also highly recommended.
A common myth with mouthguards of quarterbacks is the communication impairment. If there are mouthguards that do not restrict their talk, they are rather open to wearing one to protect their teeth and jaw. 
Read also: What's The Difference Between Mouthguard And Nightguard?
Do Kickers Wear Mouthguards?
Kickers do not widely wear mouthguards as they have minimum contact with others. Those kickers wearing mouthguards use lightweight models with minimum thickness, like 3mm clear mouthguards.
Although NFL doesn't recommend mouthguards for kickers, a handful of kickers seem to wear them for double protection. The primary reason is to use a mouthguard as a shock absorber to protect jaws and teeth from blows caused during the game. 
Wearing a mouthguard is a liability, although several kickers skip mouthguards and assume helmets to protect them from blows. 
Do Goalkeepers Wear Mouthguards?
All goalkeepers wear mouthguards since they need several layers of protection to tackle balls on the pitch. Mouthguards and chin guards safeguard goalkeepers.
Several leagues have unique recommendations and regulations about mouthguards. For instance, some leagues recommend wearing shin guards and socks in the same color but do not discuss mouthguards. 
Do Pro Football Players Wear Mouthguards?
Several pro football players skip mouthguards, citing that NFL hasn't mandated them. However, some of them wear mouthguards for an extra layer of protection in the game.
In either case, a clear 3mm mouthguard is suggested for all football players. Those players staying highly exposed to contacts and heavy blows will require a 6mm mouthguard. A double mouthguard also works well for such players.
Read also: How To Attach A Mouthguard To A Football Helmet? (4 Steps)
My Favorite Football Equipment
Thanks for reading this article. I hope it brought you great value you can implement in your life. Finally, below you can find my favorite football equipment that I think would serve you well on the field!