How To Oil An Old Baseball Glove? (Step-By-Step)
Oiling a baseball glove is something every baseball player should know how to do themselves. Oiling your baseball glove has multiple benefits, and if you ask me, it's quite therapeutic.
This article will show you a step-by-step process of glove oiling, explain why you should oil your glove, and what you can oil it with.
Before I go through the process, I want you to know why to oil a glove to understand its importance and thus, do it with more care!
Why Should You Oil a Baseball Glove?
Oiling a baseball glove starts with the why, like most things in life. If you want to care about something, you first must know why you are doing it.
You should always oil a baseball glove if it's new because oiling will help the leather soften up, fastening the breaking-in process. For older gloves, oiling will provide moisturizing to the leather, keeping it alive and preventing cracking.
That being said, you should always oil a brand new and older baseball glove. As we know, nearly all baseball gloves will require a break-in period. The time and difficulty vary between models and brands, but it's done because it eliminates stiffness and makes the glove feel like an extension of your arm.
Another reason is the cracking. As you play baseball with your glove, often under the sunlight in at least warm temperatures, the leather will dry. As the leather drys, it will draw out the oils with it. Thus, it will crack. When the leather loses its natural oils, it will become brittle and lose its quality.
In conclusion, it's vital to oil your baseball glove, especially when it becomes older, because if the leather is never oiled when it's about to or has lost its natural oil content, it WILL crack. However, the time for a major crack to happen isn't short.
What Can You Use to Oil a Baseball Glove?
There is a misconception that you could only oil a baseball glove with traditional baseball glove oil. Although this is the recommended product, you can use various baseball glove oil alternatives as it's made specifically for it.
The best baseball glove oil substance is a traditional baseball glove conditioner. However, if you don't have any, lanolin neatsfoot, mink, and even olive oil do the same trick. In addition, fragrance-free shaving cream and vaseline can also be used to oil a baseball glove.
To get more information about the properties and tips on using baseball glove oil alternatives, check out my in-depth article about it.
How to Oil an Old Baseball Glove?
Now to the meat of this article and why you are here in the first place. Follow the steps below to oil your baseball glove with ease.
Gather Required Items: Start by gathering everything you need. This includes your glove, chosen oil & clean rag. I recommend using a traditional baseball leather glove oil or pure lanolin oil. However, everything mentioned above will suffice.
Un-lace the Glove: To get the oil thoroughly on the glove, you need to remove the laces. I recommend just cutting the laces with scissors and buying new laces if it's old. If your glove is new, un-lace the glove by hand.
Clean the Glove: You wouldn't want to oil your glove with dirt and dust, wouldn't you? Because we want to avoid that, you need to clean the leather before applying oil to it. For this, you will need a leather cleaner substance and a sponge or clean cloth. I recommend using a Leather Care Kit because it's specifically made for it. If you gather your items, be sure to use cleaner approved for leather surfaces. When you have your items ready, add the leather cleaner to your sponge or cloth and work the leather thoroughly. Don't use too much cleaner at once, and make sure to cover the whole area. Under no circumstances clean the glove with water.
Dry the Glove: After cleaning, you need to let it dry completely before adding oil. Wipe the glove once more with a clean sponge or cloth without a cleaner, so there's no excess substance left. Let the glove dry for 12 hours at room temperature, where it can get air. Don't use any heater or dry it under the sunlight.
Oil the Glove: Now that your glove is clean and dry, it's time to oil! Add your chosen oil to a piece of clean cloth and start rubbing the oil on the glove starting from heel to pocket. Ensure that the whole area is worked out and there is no excess oil left when you are done. To make things easy for you, add only a small amount of oil to the cloth instead of directly pouring oil on the glove. Too much oil can and will make your glove's color turn darker.
Dry the Glove: Work through the leather once more with a dry clean cloth, so it's almost dry but oily. Leave the glove to dry on its own at room temperature, where it can get airflow for 12-24 hours.
Apply Conditioner (Optional): If you want the oiling to last for as long as possible and the best performance for the glove, you should use the conditioner on it. If you have a leather care kit, it probably came with a conditioner. If not, I recommend using Sarna Baseball Glove Conditioner for this rejuvenating purpose. Now, follow the same steps used in cleaning and oiling, but only do it with a conditioner.
Re-lace the Glove: After the glove is dry, you can re-lace the glove with the same lace or a new lace. I recommend getting a new lace for an old glove because you can get a fresh look on it, and the lace won't snap one day.
Follow these steps in your baseball oiling journey, and you will have a fresh-looking glove in no time! Well, in approximately two days, thanks to the drying times…
Do's and Dont's In Baseball Glove Oiling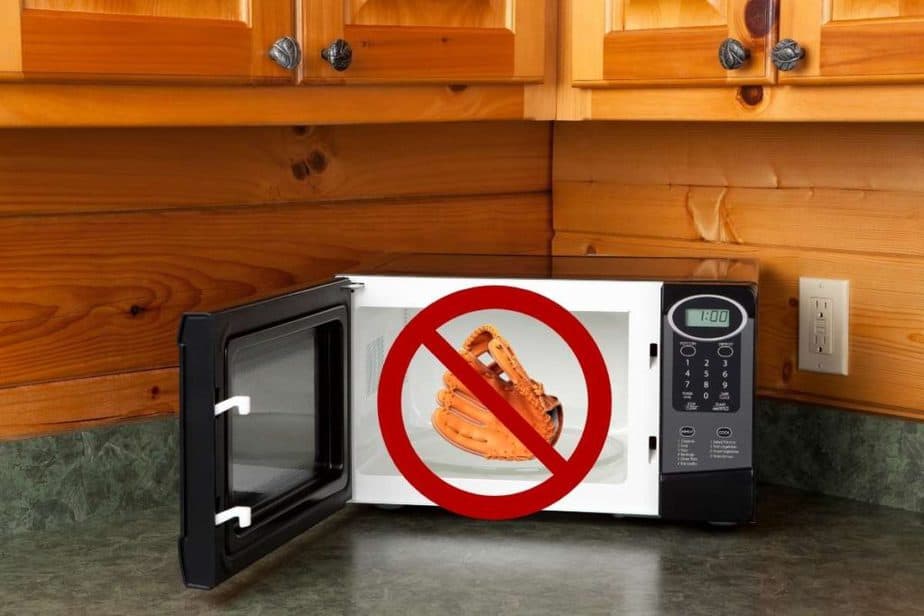 If you have spoken to people about oiling a baseball glove, searched the internet, and heard stories about it, you have most definitely heard the weirdest stories people do to their gloves in the oiling process. Some situations might be ignorance, whereas others might be something weirder. Take a closer look.
1. Keep oil usage within boundaries
I have seen pictures of gloves that have been almost soaked in oil. This isn't something you would want as the glove can turn quite dark as a result, and even worse, the leather will only deteriorate faster when using oil excessively. This is the opposite of what glove oiling is supposed to do.
2. Ensure your substance is fit for leather
Another biggie is to make sure that the oil or substance you are about to use won't harm the leather.
Leather is a specific kind of material with specific needs. Using improper oils and substances on leather will cause it to break faster as they are probably meant for something else. Lucky for us, it's very common, so most substance containers and bottles will say whether it is fit for leather or not.
Be sure to double-check that.
3. Don't keep your glove in a car
Keeping your glove in a car is a surprisingly common practice, and I get it; it's super easy. However, cars will get extremely hot in warm areas, which will make the glove's natural oil content evaporate. This results in a faster aging process which means more potential cracks faster.
Don't even dry the glove in a car, as the natural room temperature airflow is what makes the leather well and thriving.
4. Don't put your glove in a microwave
Yes, you heard right. Apparently, breaking in a baseball glove by microwaving is a popular practice, but I can assure you that it isn't great for the glove, and in the worst case, your glove will be in irreparable condition. Microwaving a glove will cause it to dry out very fast. In addition, it damages the laces heavily.
Of course, there is the possibility of the microwave bursting in flames, especially if your glove has metal components. Surprisingly, microwaves are for food, not for baseball gloves…
How Often Should You Oil Your Baseball Glove?
Everything considered, how often should you oil a baseball glove? I remember the time before I had ever done anything like that. I had no clue when I should do it. Luckily, the answer is quite straightforward.
Generally, you should oil your baseball glove at least once a month. However, the optimal timeframe depends on various variables such as training climate, training frequency, personal preference, and how well you keep caring for the glove.
If you are a regular hobbyist, you might not need to oil your glove even once a month. However, if you demand the utmost quality, are on a competitive team that trains a lot, and live in a dry and hot area, then you should oil your glove once or every other week.
The best way to know for sure is to examine and look at the glove yourself. Does it look like it could need a rejuvenating treatment of oil? If so, you should do it!
My Favorite Baseball Equipment
Thanks for reading this article. I hope it brought you great value that you can implement into your own life! Below you can find my favorite baseball bat, baseballs, and a glove that I think will take your game to the next level!