How To Bake Hockey Skates? (All About Heat Molding)
When you get a new pair of ice hockey skates, it's only natural that the fit isn't perfect yet as they haven't had time to conform to your feet. This can cause blisters, rashes, and pain, so making them fit well is a priority. Baking your hockey skates is a popular method to get around this problem, and you'll learn exactly how to bake hockey skates and more in this article.
To bake hockey skates, pre-heat the oven to 175°F or 80°C, turn the oven off when it reaches the temperature, and place your hockey skates in the oven for 6 to 8 minutes. Then, put on the skates, lace them as you normally would, wear them for 15 minutes, and let them cool off for 24 hours.
By following the rules above, you will break in your ice hockey skates to make a good fit right from the start. However, there are a few caveats you should focus on to prevent errors and maximize the effect you get from baking the skates. Stick with me, and I'll give you the exact steps and information. Let's go!
Instructions On How To Bake Hockey Skates
Baking your hockey skates is a process on its own. However, the molding process only starts when you take the skates from the oven. I have provided step-by-step instructions on both processes, so be sure to read both of them to gain the maximum benefits.
Another thing of note is to read the product information of your skate model. Look for whether they are heat moldable. Some recreational or entry-level skates aren't fit for heating. If your skates aren't, don't proceed with the baking process. Instead, refer to my ice hockey skate breaking-in guide for more ideas, as heating skates that shouldn't be heated can result in irreversible damage.
Now, let's start with the hockey skate baking.
Pre-heat the Oven to 175°F (80°C): Start by pre-heating your oven to 175°F, which is the perfect temperature as it's warm enough to soften the skate, yet not too hot to melt it. If you're unsure of the accuracy of your oven, use an oven thermometer.
Prepare the Skates for Baking: During the pre-heat, loosen the skate's front tongue so you can easily put it on after baking. Also, find a baking tray to place your skate on. If your oven is small and can't fit two skates at once, bake one skate at a time. In fact, it's better for the most accurate process as you need to focus only on one skate at a time.
Turn Off the Oven When Pre-heated: When the oven reaches 165-175°F (74-80°C), turn off the oven so it won't melt the skates. The baking process is done with the after-heat oven off, not on.
Bake the Skate for 6-8 Minutes: Put a timer for 6 to 8 minutes which is the optimal time for baking a skate. You should smell a slight rubbery smell at the last moments of the baking process. This is perfectly normal, yet keep an eye on the skates as they shouldn't melt. It's also a good idea to give your undivided attention to the baking and monitor it, just in case.
Baking your skates is one half of the journey when you want to mold them well in your feet. The next step is to mold the heated skates to your feet which will be done much quicker than if you used them without the baking process. Find how to mold your baked hockey skates below.
Preparation Durning Baking Process: Now that your skates are baking, find a pair of socks you use during ice skating, two chairs (one where you'll sit and one where you'll place the skates), and a rug under your chair so the skate's blades won't leave markings on the floor or become dull. If you want to monitor the baking process, do these before placing the skates in the oven.
Bring the Heated Skates In Front of You: When you have your ice skating socks on for the most accurate molding and two chairs and a rug prepared, take out the skates from the oven when the time has passed to begin molding them on your feet.
Place Your Feet On the Skates: Start placing your foot on the skates by bending the tongue forward, so your feet are perfectly on the skate. Make sure your feet are securely on the skates. This is when things start to get warm as they should; however, the skates shouldn't be as hot so they would burn you.
Lace Up the Skates: When you're positive that the skates are securely on your feet, pull back the tongue and lace the skate well as you would when going on the ice. This is the most crucial part that will determine the accuracy of the mold, so tie them up well.
Wear the Skates for 15-minutes: When your skates are tied up, sit on the chair for 15 minutes, so the skate has time to mold around your feet. If you notice that the skates e feeling too tight, stand up so your feet will flatten, flattening the skates for a wide fit. After softening the skates in the oven, they will start to mold and reshape when hardening, which gives you the customized fit.
Remove Skates from Your Feet: After 15-minutes have passed, unlace the skates, take them off, then lace them up again so the molded fit won't change.
Cool off the Skates for 24-hours: When your skates are laced up, finalize the process by storing them in a cool place such as a closet or a garage so the skate will solidify fully. If you don't take this step, you will likely undo the molding process.
Congratulations, you have now successfully baked and molded your new skates! After the 24 of cooling time, be prepared to skate with a customized fit right from the start!
Why Bake Hockey Skates?
Baking hockey skates is a straightforward process that gives you a major benefit. However, what is the reason why hockey skates are baked? I haven't clearly stated it yet at this point, so allow me.
Baking ice hockey skates will help to loosen its material and accelerate the molding process on your feet. Ice skate that fits better on your feet will be more comfortable and produce fewer blisters, rashes, or pain than new skates that haven't been baked and molded on the feet.
So essentially, baking the skates is more formally called heat molding as the skate's material will soften, so it can be customized to better conform to your feet's shape.
I love baking my new ice skates because you can skip the uncomfortable time of molding the skate as you use it, which takes at least several skating sessions.
Can All Hockey Skates Be Baked?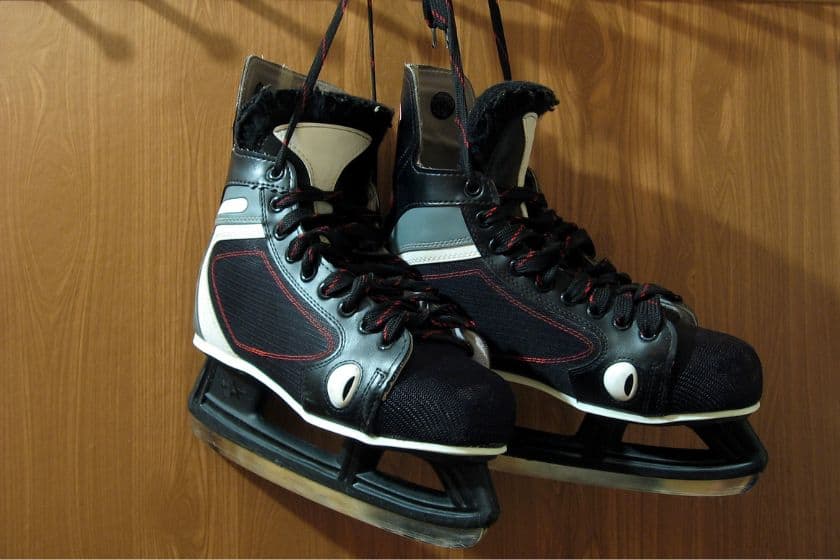 Hockey skates aren't exactly meat to be placed in the oven. Since ice hockey skates are made from plastic and metal, and the oven produces high temperatures, can you even bake all skates regardless of manufacturer, model, or quality?
All hockey skates aren't fit for heat molding or baking, because the material can't withstand heat. In general, high-end hockey skates can be heat molded because the material is durable and low-end skates aren't often durable enough. Always check the specific skate model information about heat molding.
The reason low-end skates can't be heat molded is that the skate's material isn't designed for the heat, making the construction fall apart faster. If you were to bake low-end skates, you wouldn't necessarily see immediate damage. However, its overall construction strength will be weakened, shortening its lifespan.
Higher quality skates are made from premium materials, and blends are often meant to be heat molded. In these cases, the heat won't break the construction but rather soften it, allowing personalized molding.
Should You Bake Hockey Skates?
Baking hockey skates is a great way to break them in, resulting in a better fit, more enjoyable time on the ice, and fewer blisters or rashes. However, is baking your hockey skates always smart or needed?
You should bake your hockey skates if you want a customized fit with less blistering and rashes from day one of wearing your new skates. However, if you want to use another breaking-in method, such as blow drying or simply wearing them, or if your skates aren't heat moldable, you shouldn't bake them.
The most important factor in determining whether to mold hockey skates or not is to make sure you can. As I mentioned, low-end hockey skates are often made from lesser materials, so heating them will decrease the durability of the build instead of only softening it. In this case, don't bake your skates. If you aren't sure whether you can, check online or ask the manufacturer.
Second, there are many breaking-in methods for ice hockey skates, so baking isn't necessary, or is any method whatsoever. Your skates will be broken in as you wear them; however, blisters, rashes, and discomfort aren't rare if you start playing with your skates straight from the box.
It's quite personal whether you will get blisters easily or not. For example, I don't get blisters easily so I don't deem it necessary to bake my skates. However, I'm a fan of maximizing my comfort from time to time, so I always do.
How Many Times Should You Bake Hockey Skates?
There are a few reasons you would want to bake hockey skates more than once. For example, if you don't get the right fit the first time or want to re-mold it after a certain time has passed. This raises the question of whether you can bake your ice hockey skates unlimited times or is there a limit?
Generally, you can bake quality hockey skates three times maximum. After a certain point, the heating will start to break down the material of the skate instead of just softening it, breaking it faster.
This widely depends on the specific skate model, quality, and the baking method you're using. Most skates are safe to bake once or twice, even three times. However, more than that will wear it down too much.
Also, keep in mind that all, usually lower quality skates, can't be heat treated without irrevisable damage.
I have only baked skates two times, once just after buying them and once when I feel that the fit isn't great anymore, which is long after the initial baking. Then when I see that it might be a time for a third skate, they are already so worn out that I'd rather buy a new pair than endlessly rebake them.
I'd advise keeping the baking processes at a minimum, yet you can take advantage when you buy them and later down the road. However, when it seems like new pair of skates would be in order, don't hesitate to get a new pair, and your game and comfort will thank you.
Do NHL Players Bake Their Skates?
NHL (National Hockey League) players are a different breed in ice hockey. They are the most skilled individuals equipped with the latest gear and teamed with the best teammates and coaches on the glove. Do NHL players bake their hockey skates, or do they have more sophisticated methods?
NHL players don't traditionally bake their skates at home. Instead, a skate technician will use a convection boot oven to heat the skate between 165-175°F (74-80°C), which will then be given to the NHL players.
Think about it. Why would an NHL player paid millions of dollars annually carry their ice skates home, place them in their oven, and mold them there? NHL teams are filled with coaches, team assistants, and you name it that will do such things for the NHL players, so the players can focus on game strategies, plays, training, and other things that will move the needle toward winning the next game.
Still, pro hockey players are humans as we are and enjoy a pair of broken-in skates molded for their feet instead of cold skates straight from the box. All in all, it's a personal thing whether players get their skates heat treated or not.