How Long Do Table Tennis Rubbers Last? (Full Rubber Guide)
A table tennis racket is made out of two parts: The blade and rubber. Blades last much longer than rubbers, so you really need to keep an eye out for the condition of the rubber. However, that can be hard if you don't know any timespan when a rubber usually goes bad.
In this article, I will teach the average lifespan of a table tennis rubber and the things that affect them. Also, I'll go deeper into why you should change your rubber and how to know when your rubber needs changing.
But first, how long do table tennis rubbers last?
On average, table tennis rubbers last between 50 and 100 hours of active gameplay. Depending on how many times per week you play, your skill level, the rubber's quality, and how you treat your racket will affect how long the actual lifespan really is.
That being said, take a look at the table below and see how long your rubber should last, depending on how many times per week and how long each session lasts.
| | | |
| --- | --- | --- |
| Table Tennis Played / Week | Time Played Each Session | Average Rubber Lifespan |
| 2 times | 2h | 13-25 weeks |
| 2 times | 3h | 9-17 weeks |
| 3 times | 2h | 9-17 weeks |
| 3 times | 3h | 6-12 weeks |
| 4 times | 2h | 7-13 weeks |
| 4 times | 3h | 5-9 weeks |
| 5 times | 2h | 5-10 weeks |
| 5 times | 3h | 4-7 weeks |
| 7 times | 4h | 2-4 weeks |
In most cases, the average rubble lifespan is found at the late end of the estimate. Therefore, if your rubber lifespan estimate is between 13-25 weeks, it' nearly always +20 weeks at minimum. It can go further than the estimates as well.
If you are like most people playing table tennis, you will play a couple of times per week and spend playing a couple of hours each time. In this case, you should be fine changing your rubber every six months.
However, if you are a pro tennis player that plays 7 times a week, 4hours a day, you need to change your rubber once a month, if not sooner.
Another major variable that I didn't include in the table because it is hard to estimate is your skill and dedication.
If you are a recreational player who mostly plays relaxed back and forth ping pong, your rubber will last considerably longer than one of the advanced players that use every minute of the training striking that ball as hard as they cans. Naturally, the rubber will wear out faster with the advanced player.
What Affects To the Lifespan of a Table Tennis Rubber?
Now, let's take a closer look at what affects the lifespan of a table tennis rubber.
1. How much do you play
The amount of play will obviously have a huge impact on how long a rubber will last.
If two players play twice a week together, but the other leaves after one hour, whereas the other stays to practice alone in playback mode, the rubbers won't last the same amount even when they practice the same amount per week.
The hours you spend striking a ball will be the factor that wears out the rubber the most.
2. Your skill level
The amount of skill one possesses has a say in the lifespan of the rubber as well.
If a total beginner strikes the ball, it probably won't have a third of the power an advanced player generates. Thus, every single time the ball hits the rubber, it is targeted with three times of pressure and power, so naturally, over thousands of repetitions, the rubber will be much more worn out than the beginner's racket.
In addition to the power focused on the rubber, an advanced player trains with more purpose, so the amount that the player strikes the ball is more times over than that of beginners that can barely hit multiple strikes in a row without misplacing the ball.
3. The rubbers quality
Another factor is that if you buy an unbranded rubber for $5, there is no way that it will last nearly as long as a quality rubber from Butterfly or another reputable brand.
A more quality rubber has more product testing and designing behind them, so they will exceed performance and have a longer lifespan. Also, better materials and a more thought-out manufacturing process are probably implemented as well.
4. How do you treat your racket
Last but definitely not least is the way you treat your racket.
If you carry your racket as it is in a backpack where you have other belongings rubbing against the rubber and leave the racket in a hot car or in a garage where it's moist, you can be certain that your rubber won't last long.
On the other hand, if you use a proper racket case and even a protective film against your rubber, you will increase the lifespan of the rubber even beyond the estimates above! Be sure to treat your racket right, and you will be rewarded with the saved money, time, and effort.
Why You Should Change Your Table Tennis Rubber?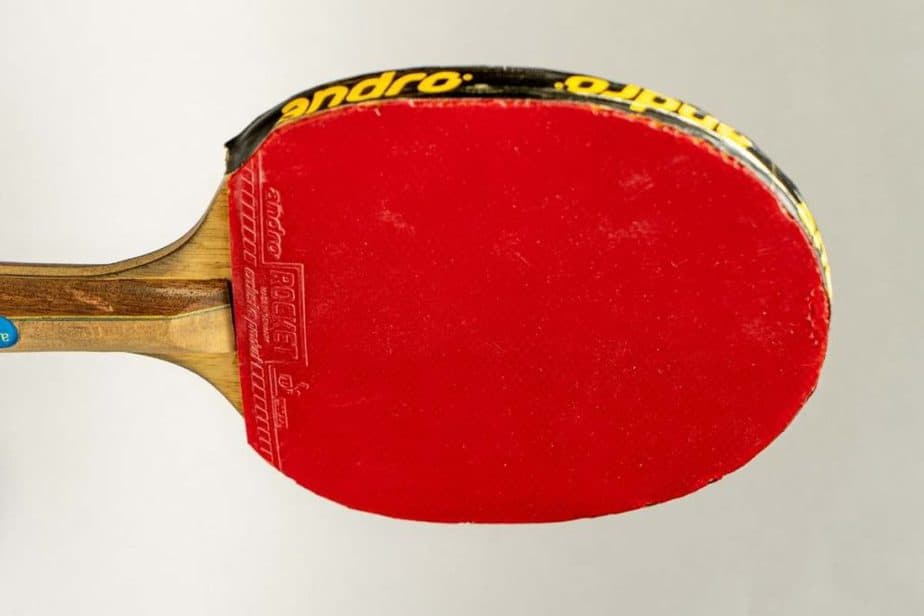 When rubber gets old and worn out, it loses its tackiness and elasticity from the sponge. This results in lesser spin and control because it isn't as tacky anymore, and as the sponge is worn out of usage, it won't generate much power. This is why you should change your rubber.
Let's take a closer look at speed, spin, and control individually.
1. Speed
The speed of the racket comes partly from the rubber's sponge thickness, and the thicker the sponge, the more powerful the racket.
Anyways, the sponge that comes with the rubber will lose some of its power; thus, you won't be able to generate so much power anymore. Think about it, when you have struck a ping pong ball thousands of times, it's natural that the sponge won't be in its former glory but is now worn out and flattened.
2. Spin
To generate a good amount of spin, the rubber needs to have some tackiness, stickiness, or whatever you want to call it.
When a ball is struck thousands of times, time and usage will do their job to remove some of the rubber's tackiness. When this happens, the racket won't generate so much spin because there is less traction and grip between the rubber and ball.
3. Control
The sum of lost elasticity and tackiness will affect the control you have with the racket. You should change your rubber as soon as you see a lack of control on it.
When the rubber isn't as elastic anymore, your accuracy will worsen. Also, when your rubber isn't as tacky anymore, you can't return hard spins and change the ball's direction to a desirable one because it won't simply move in a way it used with a tacky rubber.
All of these 3 reasons are more than enough to make you change your rubber immediately. My favorite is the new Butterfly Dignics 80, which is a great offense rubber for those who love spin nearly as much as power.
How to Know When to Change a Table Tennis Rubber?
There are two main ways to know whether you should change your table tennis rubber or not by feeling the game and testing the rubber.
A table tennis rubber should be replaced when you notice that you can't generate spin or control the ball as you used to. Also, when you notice a decreased speed in your strikes, it should be changed. You can also test your rubber by sliding your finger through the rubber to see whether it has any friction.
If you still aren't sure about it, you can do a paper and a table test.
1. Paper test
You can test the tackiness of your rubber by placing a piece of paper on the table and pushing your racket against it slightly. If the paper rises with the racket for surprisingly high, you don't need to change your rubber. However, if the paper won't stick to it, then you should change the rubber.
2. Table test
Table test is another great test to see whether your rubber needs changing. Start by placing your racket's head on a table tennis table in a way that the handle comes over the edges. Push the racket head to the table and then carefully push the racket's handle over the edge.
If the racket doesn't flip over the table when you add a little bit of force, you don't need to change your rubber. However, if there are no friction and the racket flies over the edge, it probably needs changing.
How Do You Maintain a Table Tennis Rubber?
To maintain your table tennis rubber, be sure to keep it safe at all times by keeping your racket in a racket case and applying a protective film on the rubbers when not in use. Also, cleaning your rubbers will keep the tackiness and overall condition better for a longer amount of time.
Let's take a look at both of these things in-depth.
1. Keep the rubber safe
The most important step in maintaining your table tennis rubber is to keep it safe so it won't go bad prematurely.
There are three steps to make sure that my rubber is safe: Use a racket case, add protective film, and store it right.
A racket case is the best way to keep your rubber safe. When you use a racket case instead of carrying your racket freely in a bag, you ensure that other items won't rub against the rubber and damage it. Also, a racket case protects the racket and rubber from the elements such as high heat and moisture, however, the protection won't be full.
A protective film is one step further to keep your rubber tacky, clean, and undamaged. A protective film is a piece of plastic that you add to both of your rubbers when you aren't using the racket. This keeps the rubber clean from dust, is partly safe from moisture and heat, and protects the surface from damage.
Storing your racket in correct temperatures away from moisture will make the rubber last longer. Generally, high temperatures will shrink the rubber while moisture will puff it up so keep the racket in a racket case with protective films on the rubbers and make sure that it is stored in a moisture-free room temperature space.
2. Clean your rubber
Cleaning your rubber is an important part of maintenance. The best and most simple way to clean a rubber is simply with water. The rubbers are often dirty with sweat, dust, hair, and you name it, so cleaning it is very important.
The best way to do this is to use a small amount of water and rub it against the rubber with kitchen paper or cloth. Wipe the rubber gently and then dry it with kitchen paper. This takes less than a minute and has a huge effect on the condition of the rubber. Do this quick step after every training session.
I also like to do a more thorough nurturing cleaning to my rubbers with a Racket Care Kit. A racket care kit is included with a foamy cleanser that cleans the rubber deeper and better. Also, a delicate sponge to rub it in is needed for the best results.
I don't do this after every training session because it isn't necessary but once every week keeps the rubber in excellent condition.
Learn more: How Long Do Ping Pong Paddles Last?
Does Table Tennis Rubber Expire?
In short, table tennis rubbers will expire after a certain period of time. If a table tennis rubber is still in its original packaging and has remained airtight and unbroken, it should last at least 12months before noticeable signs of expiring will occur.
If you have a table tennis rubber already added to a blade, it will expire in less than 12 months, even if you don't use it.
By expiring, I mean a noticeable difference in performance, however, you still can definitely use it, and recreational players won't probably notice a difference unless comparing it to a fresh one at the same time.
What Is the Thickness of Table Tennis Rubber?
The thickness of a table tennis rubber or a sponge more accurately means how thick in millimeters the sponge is. The thicker the rubber, the more powerful it is.
Table tennis rubbers are measured in millimeters, and you can find them between 1.4mm-2.3mm There are also different colors (Mostly Red & Black). Defensive rackets use thinner rubbers because the trampoline effect generated from the elasticity of the sponge won't be as powerful as it is in thick offensive rackets.
Take a look at the table below, where you can see how the sponge thickness will affect the speed and optimal player type.
| | | |
| --- | --- | --- |
| Sponge Thickness | Rubber Speed | Player Type |
| 0-1.4mm | Slow | Defensive |
| 1.5mm-1.9mm | Medium | Allround |
| 2.0mm-2.2mm | Fast | Offensive |
| 2.3mm | Very Fast | Offensive |
Why Are Table Tennis Tubbers So Expensive?
If you have ever browsed table tennis rubbers, it can be overwhelming to know why some are quite affordable, and others are costly. Well, many things make up the price.
In short, table tennis rubbers are expensive if more time has been invested in product testing and quality control. Also, the manufacturing process can make certain rubbers expensive. Supply and demand, in addition to the brand, are major factors in the price.
If you want to learn more about the prices of table tennis rubbers end everything that affects them, I highly encourage you to read my article about it.
How Long Does a Table Tennis Blade Last?
Table tennis blades last considerably more amount of time than rubbers. The real lifespan of blades is made out of many factors, and offensive blades last longer than defensive. Why is that?
Table tennis blades last 1-2 years on average, depending on what kind of wood it is made of (soft or hard), how thick the blade is, and what the plies between the wooden layers are made of. Offensive rackets are often made of harder wood with moisture-resistant plies, which makes them last longer.
Many things are going on even beyond those simple factors, so if you want to learn to determine and guess how long your blade will last, check out my comprehensive article about the subject.
My Favorite Table Tennis Equipment
Thanks for reading this article. I hope it brought you great value that you can implement into your own life! Here you can find my preferred table tennis equipment that I believe you could benefit too!