Can You Wear Soccer Cleats For Baseball? (Why You Shouldn't)
In my recent article, I explained the differences between soccer and softball cleats but what has gotten even more questions is whether you can use soccer cleats for baseball.
In this article, I will explain that in addition to the differences between the two, do you need baseball cleats for baseball and different types of baseball cleats. So, can you wear soccer cleats for baseball?
Generally, you can wear soccer cleats for baseball, but they aren't good for the long run. Soccer and baseball are drastically different even when both are played on grass. Thus, soccer cleats will lack features that would be optimal for baseball and vice versa.
Suppose you are a total beginner in baseball, but you own a pair of soccer cleats. In that case, I'd even recommend using soccer cleats for baseball before investing in proper baseball cleats. That's because you don't necessarily even like baseball, and you would have wasted some money.
If you see that you love baseball and want to continue with it, then I'd recommend getting baseball cleats as soon as possible. Baseball cleats are made specifically for baseball and its needs. So, soccer cleats won't have the traits baseball cleats would, hindering your performance and posing safety risks.
To understand why you should have baseball cleats for baseball when you want to take things to the next level, we need to examine the differences between soccer and baseball cleats.
Difference Between Soccer and Baseball Cleats
Many features make soccer and baseball cleat different. When you understand everything different between the two, you'll see why soccer cleats are best for soccer and baseball cleats for baseball. So how are they different?
The main differences between soccer and baseball cleats are that soccer cleats don't have toe stud or metal spikes. In addition, soccer cleats are lighter and smaller because baseball cleats are constructed with more material to provide better support.
To further grasp all the different features between the two, check out the more in-depth explanations below.
1. Toe stud
Toe stud is one of the most considerable differences between the two cleats because soccer cleats don't have one, whereas most baseball cleats do.
The toe stud is a cleat at the tip of the shoe, providing more traction against the ground. However, soccer is a contact sport whereas baseball isn't, so it is illegal to have one because of high safety risks. Although, any soccer cleat manufacturer probably doesn't include toe studs because they aren't allowed.
Think about soccer for a minute. It's a very high contact sport where people often step on one's toes. A toe stud would increase the injury and pain ratings to the roof, as it's on the edge of the shoe, making it easier to hit the spike the other player.
A toe stud is perfect for baseball as it improves the traction so well, and there is virtually no risk of harming others with the spike. The only exception would be sliding on the base, but the risks are lower than the reward.
2. Weight & Size
Another difference between soccer and baseball cleats is the weight and size.
Baseball cleats are generally bigger because they are included with more material. After all, it will make them sturdier. In baseball, you will have the option of low or high top shoes, where high top shoes naturally have more material.
The benefits of high-top cleats include more support going higher on your leg. Baseball cleats are often included with more material on the sides to provide further support. This makes them both bigger and heavier.
In addition, baseball cleats usually have additional midsole material, whereas soccer shoes are constructed so that the player would be as close to the ground as possible. That's why the midsole on soccer cleats is thinner.
Soccer cleats, on the other hand, are slimmer and lighter. A lot of running is done during a soccer match, meaning that the shoes are best if they are light in weight. This makes the manufacturers include as few amounts of material as possible to make them lighter, making the players faster.
3. Lateral support
Baseball cleats are constructed with ankle support in mind. Pitching, power-hitting, sliding, running, and turning require great ankle support, usually done with longer tops and hardened material on the sides to provide security for the ankles.
Soccer is a more moving sport than baseball, so why are the shoes not included with proper ankle support? Well, a high top on a shoe comes in the way for natural ankle movement and adds weight to the shoe.
Even when the risk of ankle sprains is higher with soccer cleats, the benefits outweigh the risk. Football players can move fast and efficiently with free ankle movement, lightweight, and comfortable design.
4. Comfort
Comfort on both cleats is quite similar. However, there are slight differences. Generally, big spikes are more uncomfortable than small ones because you feel they will contact your foot better. So if soccer cleats have tiny spikes on the outsole, which is usually the case, they tend to be more comfortable.
In addition, the thin material on soccer cleats won't only conform to your foot better, which makes it comfortable but also lets you feel the ball better. When you can feel the ball very well, you can control it much better, making you a better soccer player.
All in all, the comfort is somewhat the same, but if one needs to be picked out, soccer cleats are more comfortable.
5. Cleat type
Generally, soccer cleats are only included with molded plastic cleats, whereas baseball cleats can be acquired with metal ones.
Metal cleats dig deeper on the grass, increasing the traction so well, which you want in baseball. Personal preference determines how much, but traction is very important.
Metal cleats in soccer, however, aren't good and even allowed. Remember, soccer is a contact sport, so if the players had metal cleats, it could do serious damage when stepped on with full power.
More on cleat types below.
6. Cost
There are so many different soccer and baseball cleats out there that it would take years to calculate the true average costs of both shoes.
However, when browsing cleats for both sports, you can quickly notice that soccer cleats are slightly more expensive, on average, than baseball cleats.
Of course, quality, innovation, brand, materials, etc. will affect the prices. You need much more equipment for baseball than for soccer, so that might be one reason why soccer cleats are a tad more expensive. The prices can artificially rise, and what manufacturer & brand wouldn't want to make a big profit margin?
Check out the table below to quickly see the differences between soccer and baseball cleats.
| | | |
| --- | --- | --- |
| Feature | Soccer Cleats | Baseball Cleats |
| Toe Stud | No | Yes |
| Weight & Size | Lighter & Smaller | Heavier & Bigger |
| Support | Worse | Better |
| Comfort | Similar | Simila |
| Cleat Types | Plastic | Plastic & Metal |
| Price | Slightly more expensive | Slightly less expensive |
Do You Need Cleats for Baseball?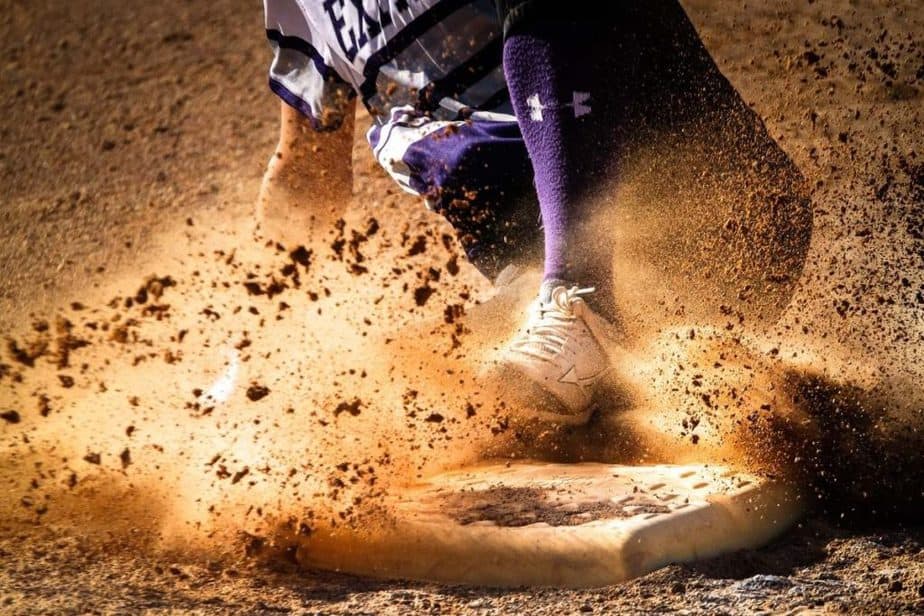 All things considered, are baseball cleats optional, or do you need to use them?
In short, you don't need baseball cleats if you are starting and familiarizing yourself with the sport. However, if you play seriously or in a league, you need baseball cleats because they will provide the traction, safety, and balance you need to play quality baseball.
This question is like do you need a good baseball bat. You don't NEED a good baseball bat to play baseball because any wooden stick shaped like a bat will suffice.
However, if you want to perform well and enjoy the sport, you need a good bat. With shoes, you will gain safety, so I'd say invest in baseball cleats if you are above a total beginner level.
Different Types of Cleats for Baseball
As promised, I'll explain the two cleat types for baseball, their benefits, and explain what turf shoes are. If you want the full guide, check out my article about metal vs. plastic cleats.
1. Molded plastic cleats
Plastic or molded cleats, whichever you want to call them, vary from metal ones. First, plastic cleats don't look as dangerous as sharp metal ones.
The differences that affect the sport are mainly the following;
Won't go as deep on the ground as metal cleats
Usually more comfortable
Less dangerous than metal cleats
Depending on personal preference, one might like or dislike plastic cleats with less traction than metal ones. As the plastic cleats won't go as deep on the ground, you can move them off the ground faster.
Also, the cleat isn't as stubborn to stay on the ground, so if you twist your ankle or knee, they will conform to your body, making it less dangerous.
2. Metal cleats
Most MLB players use metal cleats, so you can say that metal spikes are the more professional choice.
Check out the advantages metal cleats have over plastic ones;
Better traction because spikes go deeper
Improved durability and longer lifespan
Better for moist or wet ground
The ultimate traction is the reason why professionals usually choose metal cleats. You can start or stop movement in a heartbeat, and as every second counts, they are worth it.
Although the players using metal cleats need to be mindful when changing course when moving, because metal cleats aren't very forgiving, they are one of the most common causes of injury in baseball.
3. Turf shoes
Turf shoes aren't cleats; however, they are used in baseball and other sports. These shoes have dozens of tiny rubber nubs on the outsole instead of large spikes.
Turf shoe benefits include;
Superior comfort
Safest baseball shoe
Lighter weight
Least field damage
If you want the most comfortable and safe baseball shoes, turf shoes should be your choice. The name turf shoe comes from their main purpose, which is meant to be used on artificial turf shoes. If you're wondering whether you can use them on natural grass, you definitely can as they work well there too.
The only reason cleats are often picked above turf shoes is the taction. Even when turf shoes have great traction, they can't compete with cleats' excellent and unforgiving traction, especially metal spiked ones.
I like turf shoes the best when adding all features together as I'm a fan of comfort and lighter weight.
Oh, and you can't use cleats on artificial turf fields because the damage is too big. So if you train on an artificial turf field, I recommend that you get turf shoes.
To further learn about the differences between turf shoes and cleats, see my comprehensive article.
My Favorite Baseball Equipment
Thanks for reading this article. I hope it brought you great value that you can implement into your own life! Below you can find my favorite baseball bat, baseballs, and a glove that I think will take your game to the next level!