Can You Bunt With 2 Strikes In Softball? (Bunting Guide)
Softball is a fascinating world of exciting moments, physically demanding tasks, and many rules. I love watching softball, and my friend asked me whether you could bunt a softball with two strikes. That is a very good question, and I'm sure she wasn't the only one wondering this, so can you bunt with two strikes in softball?
You can bunt with two strikes in softball. However, if the bunt results in a foul when the player has already two strikes, it is considered an out. Bunting with two strikes is a risk that requires a good bunter or the opposite team not expecting a bunt.
That being said, bunting with two strikes can be very beneficial in some situations and high risk in some. Generally, most people decide not to bunt with only one attempt left because they feel confident that the softball will remain inside the foul lines without the opponent reaching the ball too fast.
Now that you know you can bunt with two strikes in softball, it's important to know what is considered a bunt and what is considered a swing.
What Is Considered a Bunt In Softball?
There have been disagreements about whether the striker's action was a bunt or a swing on many occasions. It's important to know the actual rule of what is considered a bunt so you don't make any unwanted errors on the field.
The official rules of softball state that a bunt is a legally batted ball not swung at but intentionally met with the bat and tapped slowly within the playing field.
Bunting is sometimes confused with a swing or even a slap. A slap in softball is a batted ball that has been struck with a controlled short chopping motion rather than a full swing. A slap hit is not considered a bunt.
The official rules of softball determine the most common types of slap hits as follows:
His stance is as if to bunt, but then either drives the ball into the ground with a quick, short
swing or punch hits the ball over the infield.
Running steps (within the batter's box) toward the pitcher before making contact with the
pitch with a quick, short swing or punch hits the ball over the infield.
On the other hand, a swing is considered when the bat passes the front of the plate, or the batter pulls its wrists back. These two things show that the swing was, in fact, a swing because of its power and because it wasn't intended to be a bunt or a slap.
To further learn about the definitions and rules of softball, check out the Official Rules of Softball or the Softball Glossary.
Should You Bunt With Two Strikes In Softball?
Now that you know you can bunt with two strikes in softball and what is considered a bunt, it's time to determine when you should do it.
You should bunt with two strikes in softball when you are confident in your skills that you can bunt the softball outside of the foul lines in a way that the infielders don't immediately get to it. It's best to use your judgment as some coaches and teammates don't consider it wise play.
It's a tough choice to make as if the pressure weren't already high when you have two strikes to your name. Still, it can be a good move if you are at least a decent bunter.
There are two situations really when you should bunt with two strikes. Let's take a closer look at them.
You are a good bunter – If you are a good bunter and know your skills pretty well, you will likely succeed at it more times than fail. Still, it's important to read the situation and you will see whether it is worth a trie or not. If you aren't good a buntin, i recommend swinging.
The opponent's don't expect it – If you aren't the best at bunting but still not the worst, it can be worth the shot if the infielders don't expect a bunt and have moved a little further. It's important that the infielders aren't close if you arent accurate with your bunt, because the risk is much higher that you or your teammates won't reach the bases on time.
Bunting with two strikes is considered taboo with some people, and I have even heard that some parents have disapproved too strongly when seeing one bunt with two strikes.
First of all, it's no parent's job to yell from the crowd anything else than cheering and encouraging things. Second, if you feel confident that you should bunt with two strikes, then bunt with two strikes! However, don't be open to suggestions from your teammates and coaches, as many heads are smarter than one.
What Are the Three Types of Bunts In Softball?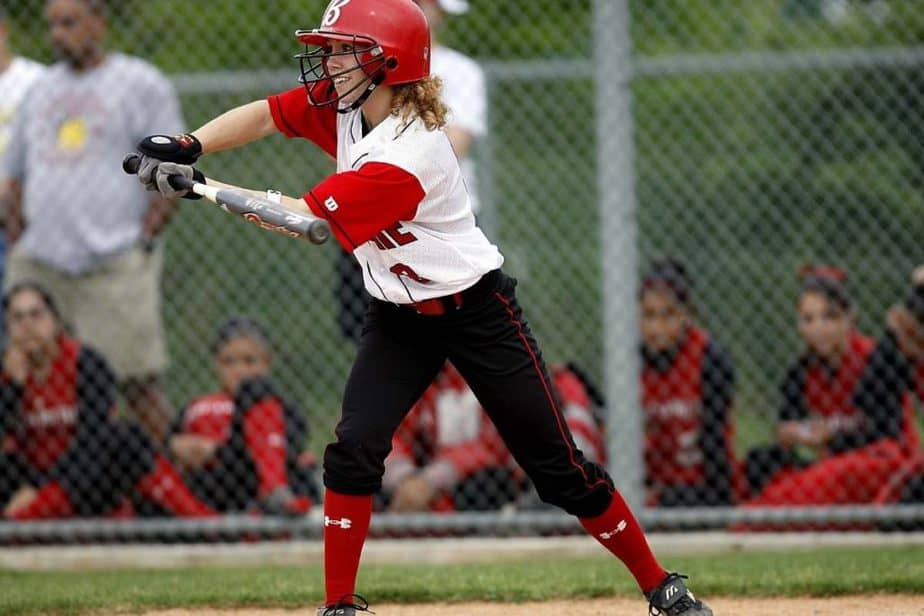 Did you think that there is only one kind of bunt in softball? In reality, there are three main types of bunts that are very important to learn, whether you are on offense or defense, as you can use them yourself or read the opponent and suspect the next move.
1. Sacrifice bunt
A sacrifice bunt is what it sounds like, a sacrifice. This means that when the batter is making a sacrifice bunt, the goal is to move a player already waiting on a base to the next by most certainly burning themselves as a result.
To perform a sacrifice bunt, you should let the defense know that you are about to bunt at an early stage. A sacrifice bunt can be difficult because when the pitcher knows that you are about to bunt, they will certainly throw the ball with more power which makes the batter harder to succeed.
2. Push bunt
A push bunt is similar to a sacrifice bunt, but the idea is to bunt the ball past the infielders that probably had closed in when they noticed that you are about to bunt instead of laying the bunt down. Hence the name, push bunt.
The goal with this bunt is usually to get a player to the next base but simply with a different method.
3. Suicide bunt
Suicide bunt sounds the most dramatic out of the three, but it isn't. However, it often is the most crucial to get right.
Sacrifice and push bunt is meant to be obvious for the defense, but a suicide bunt is meant to be as secret as possible, and the bunting position is taken in the last possible second when the ball is leaving from the pitcher's hand.
This bunt is often made when there's a teammate on the third base, and the goal is to get them home. Therefore, a suicide bunt must contact the hitter's bat, regardless of where the ball will be pitched. This can be very hard to execute, especially when the pitcher throws the ball to a tricky location.
So, the ball needs to be bunted so that the teammate from the third base can get home safely, so don't bunt down the ball as the third baser will not have enough time.
Why Is the Third Strike Bunt Foul an Out?
You might wonder why strike one and two bunt fouls aren't an out, but the third strike is. That's a very good question as I was wondering the same thing back in the day. Anyways, there is a good reason for that.
The third strike bunt foul is an out because it is far easier for the batter to make slight contact with the ball than for the pitcher to continue throwing strikes. It's easier to make contact with a bunt than it is for a swing, but it isn't so easy to throw three consecutive strikes as a pitcher.
Essentially, it's a matter of fairness and which one has it easier, the batter or pitcher. If the batter has failed two times already, and the pitcher has thrown two successful strikes, it is only fair that the batter doesn't get too easy on the last strike as the pitcher has outperformed the batter at the moment.
How To Bunt In Softball?
If you struggle with bunting, you definitely know that it isn't as easy as it looks. So if you want to master or at least hone your bunt, take a look at the instructions below, and there is a video at the end of it if you prefer visual learning as I do.
Start from the same spot you normally swing
For the element of surprise, I highly recommend that you appear as you were to swing the ball normally, without easily letting the pitcher and others know that you are about to bunt. So, start normally where you always start.
Turn correctly when preparing to bunt
You must consider how you turn for the bunting position for maximum support and focus. While turning for a bunt, both your feet's toes should be turned directly forward.
Focus on your stance and especially on your knees. Bend your knees, and you will be in a much better position to bunt securely when you aren't thinking about your toes or standing like a log.
Take a proper grip of your bat
A safe and secure grip is vital if you want to be confident, have enough power, and bunt with accuracy.
So, while turning, slide your top hand at the very start of your barrel. Take a firm grip by pinching the start of your barrel (or end of your handle) with your thumb and index finger. Keep the barrel slightly above your hands, and don't forget that your toes should still be pointing forward, and your knees are bending.
Focus on the ball for great bunt
Now that you have a confident stance and a firm grip, it's time to bunt. Keep your bat in a way that it is slightly higher than your hands, and maintain a good bend, so your head is slightly higher than the bat. This gives you the perfect sight behind the bat to the ball.
You want to strike the ball to the upper half, making it go straight down, which is what you want while bunting. If the pitcher throws a low ball, go lower by using your knees and maintaining the position so your sight and stance will still be great.
Keeping these four things in mind, your bunt should drastically improve. Remember that it probably won't immediately get better, but when you practice these things in mind, it will improve fast!
If you prefer visual learning, check out this amazing video that walks you through how to bunt successfully!
My Favorite Softball Equipment
Thanks for reading this article. I hope it brought you great value that you can implement into your own life! Here are my top softball equipment recommendations that I think will take your game to the next level.