13 Best Table Tennis Tables (Table For All Needs)
So you need a new ping pong table? That's an overwhelming task, but luckily you wondered here to my guidance. There is so much to know about table tennis tables, and there are so many features to look at before choosing the right one for you, so stick with me, and I'm certain you will find the one best for you.
Before diving into the recommended tables, I want to briefly go through what to look at in a table so you can be certain that your choice will be right. However, if you need a more in-depth guide on how to choose a table tennis table, you should check my post about it!
Take a look at the features, but if you want to go straight for the tables, click from the table of contents!
How to Choose a Ping Pong Table?
There are 5 major things to acknowledge before choosing the right table for you and many other minor ones but let's take brief insights on the most important ones.
1. Are You Looking For an Indoor or Outdoor Table?
The first thing to determine is whether you need an indoor or outdoor table? This is probably the easiest because it's a matter of either-or but don't worry; this article contains both!
Learn more: Indoor Vs Outdoor Table Tennis Tables
2. Confirm That You Have Enough Space
The second thing that you need to be certain of is ensuring that wherever you have intended to place your table has enough room for it. The last thing you want is to find out that you don't have enough space in the room or playing is horrible with the limited space. Take a look at the numbers below, and then confirm your intended area!
The optimal space for a table tennis table haves 6ft (2m) behind the table and 3ft(1m) on the sides. This means that the room needs to be at least 22ft (6.74m) long and 11ft(3.525m) wide.
This is because when you put a full standard-sized table into a room of that size, it is left with 6ft (2m) behind the table and 3ft(1m) on the sides.
It is possible to play in a room slightly smaller than that; however, personally, I wouldn't recommend that because your skills will improve, and a small room would limit your game to progress at a maximum rate. Ultimately, it's a personal choice, so if you feel comfortable playing in a slightly smaller room, I don't see why not!
3. Table's Dimensions and Measurements
The most important thing to look at in any table tennis table is the thickness of the tabletop. Especially in professional tables because this determines the quality of the ball's bounce! Generally, the thickness varies between 12mm and 25mm, and the thicker it is, the better.
Competitive games are always played with 25mm tables and nothing more but are vary; those tables come with a higher price! Below are rules of thumb that you cal follow. However, the quality depends on some other factors, but most of it depends on the thickness.
12-16mm thick tabletop: Poor Quality
16mm-19mm thick tabletop: Fair-Good Quality
19mm-22mm thick tabletop: Good – Very Good Quality
22mm-25mm thick tabletop: Excellent Quality
All tables in this list except one have the standard table tennis table dimensions 9ft long (2.74m) and 5ft (1.525m) wide. So if you want a full-size table, that is what you need. I have one 3/4 sized table, which means it is for juniors, so if you're market for a junior table, I review the best one below!
Read also: How Big Is a Junior Table Tennis Table? (Fast Answer)
4. Does It Fold, Storage & Transportation
Storage and transportation options are a vital part of every ping pong table owner's concerns. Depending on where you are purchasing a table, you might need to have a lightweight table, folding option, or proper wheels in the table, or in other cases, you don't need any of those.
When your table is lightweight, you can easily transport it from place a to place b. It can be stored in a much smaller space when you can fold it, and you can play alone using the playback mode. Finally, if the table haves wheels, you can effortlessly roll it away and move it around. Think about all of these before settling down at a specific table.
5. Undercarriage
Before looking at the recommended tables, I need to stress the importance of undercarriage, which is often forgotten, especially by new buyers. There are 5 main kinds of undercarriage:
Rollaway Undercarriage: Undercarriage is equipped with wheels
Separate halves: The table is in two halves without wheels
Singular Table: This table really don't have undercarriage instead of the 4 feet
Special Undercarriage: Unique undercarriage with special colors and shapes.
Wheelchair Undercarriage: Undercarriage is more behind than usual. Fit for wheelchair athletes.
In addition to the major aspects mentioned here, there are others things to consider, such as where your table is for, serious or recreational use, materials, the net, budget, brands your should trust, and other things you should keep in mind. If you want more information about these where I dive deep into choosing a table tennis table, you should check my post about it.
Learn more: How to Choose a Table Tennis Table?
This article is all about the best tables, so without a further due, see my reviews.
Best Indoor Table Tennis Tables
I have divided these reviews into indoor and outdoor categories. Let's begin with indoor tables.
1. Best Overall Indoor Table Tennis Table: JOOLA Tour 2500
If you are looking for the best table tennis table at a price that's still affordable, JOOLA tour 2500 is the one for you! At this price, it's unbelievable that you actually get a medium-density fiberboard tabletop that is 25mm thick, which is the maximum and best thickness in table tennis. International tournaments and the Olympics are played with the same thickness.
Also, this table folds so you can store it in a small space and use the playback mode to train table tennis alone when you don't have a partner. Also, the wheels allow easy transporting from point A to point B.
This table isn't the lightest one on the market, which results from the thick tabletop, so it's worth it. You can assemble this table quite easily, and it will likely take 15-20 minutes. I have assembled a set of chairs that took 3 times longer, so it's certainly worth the trouble.
When it comes to the net, this table comes with a tournament-quality screw clamp net that perfectly serves its purpose. Oh, and the frame and undercarriage are constructed from durable metal.
This table truly is the best one when considering both affordability and the quality of table tennis. If you don't want to break your bank but want the utmost quality and best bounce for the ball, JOOLA tour 2500 is the go choice.
2. Best Beginner Table Tennis Table: JOOLA Tour 1500
JOOLA Tour 1800 is from the same family as the table above; however, it has a more affordable price and a thinner tabletop set at 18mm. If you are a recreational player or even a beginner that takes table tennis seriously, this table will certainly serve its purpose because an 18mm tabletop will still enable a good bounce to the ball.
The great thing about a slightly thinner tabletop is that it decreases the overall weight drastically. This table weighs only 137lbs (62kg), so you can put it together in 10minutes! Also, you can fold only the other side of the table, so you are never dependent on others if you want to train table tennis because you still have the playback mode.
This table also has a sturdy coated 40mm frame and 40x40mm undercarriage, ensuring this table will remain in one piece for a long time!
For table tennis players that are looking for a table at the best price imaginable for a table that is actually of good quality, the JOOLA Tour 1800 is the optimal choice!
Killerspin is well known for its innovative and beautiful designs that come with great quality, and the MyT 415X Mega is nothing less. The 18mm medium density fiberboard is the perfect thickness for all table tennis players regardless of skill, and with the four built in-levelers, you can be sure that the table is always at a perfect level and if you're concerned about the playing stability, don't be because this table has locking caster wheels!
The MyT 415x Mega has a UV finish on the tabletop, protecting the surface from ball marks and light scratches. Also, great detail about this table is that it's equipped with storage pockets for the rackets and balls so you can start playing within seconds.
For playing alone, you can always use the playback mode by folding the other side up and for easy storage and transport, fold the other side as well, and the wheels will take it effortlessly to wherever you want. This table weighs 220lbs (100kg), so you still need to be careful when handling it.
If you're looking for a quality table with useful details for your home, office, school, recreational center, or anywhere between, I'm certain that the Killerspin MyT 415X Mega is the best choice. Oh, this table also has a chocolate color option!
If you want nothing less than a table that is fit for tournament use with a maximum tabletop thickness and all tweaks and details in order, you can't be surprised that such a table is provided by Butterfly.
Butterfly Centrefold is a sturdy and quite heavy table 280lbs (127kg) which only indicates that the tabletop that is 25mm thick and undercarriage are of good quality. This table fits table tennis clubs, professional table tennis players, tournaments, sports centers, and even the Olympics.
This table has 5″ locking wheels that ensures it will remain in one place even when you bump into it. Also, the table's legs are adjustable, so if the floor is even slightly unbalanced, you can level your table just right. Another thing about the legs is that they are unusually thick, which provides the stability a proper table needs to have.
When it comes to the net, this table comes with a tournament-grade Butterfly Europa net which is the best quality a net can be! Unfortunately, this table doesn't have a playback mode. However, this table folds easier than others because both sides unfold at the same time.
This table isn't from the cheap end, but if you have money to spend and are looking for a table that is fit for Ma Long, you should definitely choose Butterfly Centerfold!
5. Best Looking Indoor Table Tennis Table: DHS Rainbow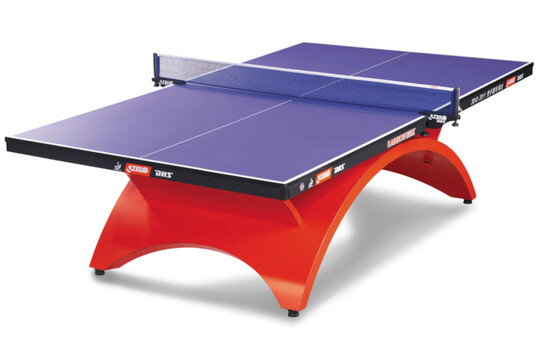 The DHS Rainbow truly is extraordinary and quite famous within the table tennis community. This table is breathtaking and the ultimate choice if you have a place set for a table tennis table and no intentions to move it around constantly. In fact, this table is called "the Ferrari of table tennis tables".
This table doesn't fold, and it's really heavy (418lbs (190kg), so you won't be able to use playback mode, store it in a compact space, or move it easily. This table is also quite expensive.
However, if you can live with these facts, the DHS Rainbow is the go choice that will make all your table tennis friends jealous! Let's talk about the features. The tabletop is nothing less than 25mm thick, which gives the best bounce for the ball, and it's fit for tournament use and approved by the ITTF!
The tabletop is equipped with corner protection pads for safety and damage protection; it has adjustable levelers under the carriage, so you can always play quality table tennis even if the floor is crooked, and the arch undercarriage makes this table the most sturdy and durable among other tables.
If you want the most beautiful table tennis table with the ultimate quality and extremely long lifespan, this table is the dream you should certainly consider!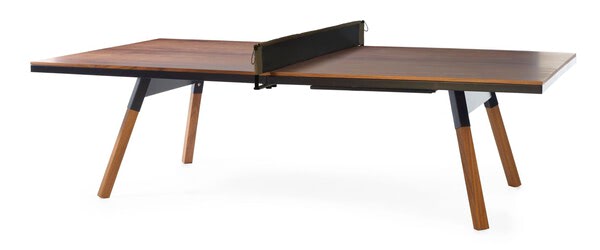 RS Barcelona table is an unusual choice that serves a specific need. If you are looking for a luxury table that is also an elegant piece of art and a decor that can also be used as a desk, conference table, or even a dining table, you should keep reading.
This beautiful table has a durable dark brown walnut tabletop and legs with a polyester fabric net. Ideal for an elegant home with a lot of space or a workspace that wants to mix conferences and sports.
This table isn't certainly cheap, and the assembly time is at least an hour in most cases; however, all of this is worth it if you don't want that typical steel undercarriage and blue tabletop in your space. It's also included with 6 balls and 2 rackets that can be conveniently stored in a secret side drawer beneath the table, which is out of sight, adding even more simple elegance to the table.
This table really brings different things together, and joy and a feel of quality are always present when working, eating, or playing table tennis with this table. Finally, RS Barcelona offers a great variety of different colors for luxury home tables and a wide selection of outdoor tables!
There are often great ones and those that are really low quality when it comes to conversion tops. Luckily we can trust Butterfly in conversion tops as we can in table tennis tables.
This conversion top is 19mm thick, which is truly enough to provide a quality bounce to the ball! Also, the conversion top weighs 150lbs (68kg) which is surprisingly heavy. That is only a good thing because you can rely on a stable game of table tennis!
The bottom of the conversion top is fully covered with a foam backing to protect the surface on your supporting table and provide reliable grip stableness. The great thing about conversion tops is that you can start playing within a minute, and it doesn't require assembly. This conversion top comes with a Butterfly clip net set!
There are so many kinds of conversion tops, but this one really fills all the boxes required to have a quality conversion top!
8. Best Wheelchair Friendly Table Tennis Table: Cornilleau 250

It's essential to carefully examine a table tennis table when purchasing one for wheelchair users! Most tables aren't wheelchair-friendly because the undercarriage will come in the way, so I examined many wheelchair-friendly tables and concluded that Cornilleau 250 is the way to go!
This table has a 19mm thick tabletop which is great for quality table tennis, and it's equipped with adjustable legs so you don't need to worry about uneven flooring and 2 wheel brakes makes sure that the table won't escape anywhere.
This table is considerably light, which makes moving it around and folding it to playback mode quite easy. Also, the price isn't certainly overpriced when considering the tabletop thickness and other great tweaks that you can do with the table. You can store your rackets and balls in built-in holders.
This table is great for wheelchair users because it has enough space beneath the table so the wheelchair can effortlessly move without hitting anything. Also, this table has a DSI folding and locking mechanism, which is super safe to use!
I highly recommend this table for wheelchair users because of its relatively lightweight, safe usage, precise adjustments, and easy movement with a wheelchair.
For the Junior table tennis enthusiasts, I haven't forgotten about you! Butterfly provides a great table fit for small athletes that can start practicing at a young age! Junior table tennis tables are 3/4 size of the standard, regulation-sized table tennis tables. This table is extremely lightweight as well, only at 62lbs (28kg).
Even when the tabletop thickness is 12mm, which is considered extremely low in standard-sized tables, the Junior table is smaller, which doesn't have the same quality effect as in full-sized tables. Also, Juniors don't recognize the small difference with the bounce, so all in all, it doesn't matter.
With a really affordable price and assembly-free build, this table is great for early table tennis practice! Also, this table goes into a really tight package when folded so you can easily store it. It also has 2 small wheels, so moving it around is more effortless than ever.
Finally, if you don't have enough space in your home but would like to play recreational table tennis, this table isn't just for juniors, and it can also serve adults well!
The 9 tables above conclude my indoor table recommendations, so I sincerely hope you found one for your purposes. I still have 4 outdoor tables to recommend below, so let's take a look at them!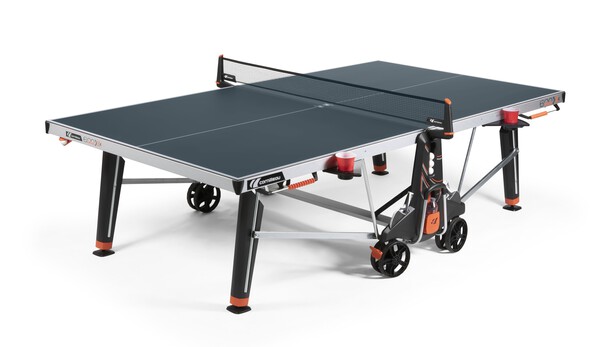 If you're looking for the king of outdoor table tennis tables, let me present to you Cornilleau 600X! This table has it all, from excellent ball bounce to DSI extra safe locking system to a relatively lightweight set at 170lbs (77kg).
This table also has so many things that other tables don't often have. For example, it's included with bottle holders, point counters, ball dispensers, self-deploying net, and racket storage! It's safe to say that this table is fit for serious table tennis and relaxed hangouts with friends and family!
You can also forget about the sun-glare because this table has a matt top, anti-glare coating, and huge wheels that make it really easy to move it around, even in grass or gravel. The wheels also are equipped with brakes so that you can rely on study table tennis sessions. Oh, the feet are also adjustable, so you don't need to worry about the uneven ground that the outdoors usually have.
All in all, Cornilleau 600X has everything required in a serious outdoor table tennis session or fun pass-along time in the backyard. I highly recommend this table as your outdoor table tennis table choice!
11. Best Beginner Outdoor Table Tennis Table: JOOLA Nova Pro Plus
If you're looking for a great outdoor ping pong table that is affordable, once again, JOOLA provides! JOOLA Nova has a 6mm aluminum-plastic composite tabletop that enables a great bounce while being weatherproof and resistant to warping and chipping!
Thi table weighs 173lbs (78kg), so it isn't from the heaviest end. Thanks to the big wheels, this table is easily transported wherever you decide to place it, and the legs are adjustable to adapt to the outdoor ground. The wheels have locks as well, so the table won't budge from the slightest bump either.
JOOLA Nova folds into quite a compact position, so storing it doesn't require that much space, and the net is also weatherproof with a screw-on installation method. The best thing about this table si that there isn't only one right place to use it. You can use it in your backyard, garage, game room, or where ever! Finally, this table is effortless to assemble!
If you're looking for an outdoor table with great value, there is no table above JOOLA Nova that I would recommend for that purpose!
12. Best Mid-Tier Outdoor Table Tennis Table: Killerspin MyT10

Killerspin always has the most beautiful table tennis tables, and the rule applies in their outdoor model MyT10! This table has a tabletop made from aluminum-plastic composite, which is the perfect combination for outdoors and durability.
This rollaway table folds neatly into a tight package, and for some alone play, you can fold up the other side to get it into playback mode.
The unusual black color and eye-piercing ret slide-on net make sure that your table tennis sessions don't lack style! A great added detail is the storage pickets hidden in the frame for easy access to rackets and balls.
Finally, this table has all the treats for moving it outdoors and playing in a sturdy and safe environment. You can adjust the feet' height so that the surface will be properly leveled, the wheels have individual locks for stability, and i-inch caster wheels will allow you to move it from place to place fast and easily!
For stylish outdoor table tennis games with cool details and helpful adjustments, Killerspin MyT10 is a perfect choice!
13. Best High-End Outdoor Table Tennis Table: JOOLA Berkshire
The final table on my list is the JOOLA Berkshire which stuns us with its unusual and elegant looks. This table is constructed from alloy steel and Mg0 concrete which is more durable than an outdoor table tennis table would ever need; it won't simply break!
When it comes to the undercarriage, it has a beautiful x-shaped steel base which looks really great. The only con about the legs is that it doesn't have a height adjustment option, so that is something you should think about. The net is weatherproof and powder coated, so it is as durable as the table itself.
The best thing about this table is that its usage certainly doesn't limit to table tennis. You can use it as a stylish conference table, large dining table, or a patio table that is quickly transformed for table tennis if you have the urge to smash that ball! This table isn't limited to the outdoors and can be used as an indoor table tennis table.
If you want an elegant multi-use outdoor table that differs from the majority, I highly recommend the JOOLA Berkshire model!
Conclusion
Selecting the right table tennis table is as important as selecting the right racket, so you shouldn't rush it, especially when we consider the usual price tag on them. I sincerely hope that this article gave you what you came looking for and perhaps you even found the table of your dreams! If that's the case, I'm happy for you, and if you didn't, I hope that you at least came one step closer!