7 Best Table Tennis Shoes (The Complete Guide)
Table tennis is an amazing sport because of who fast-paced it is and how it demands that you are always alert and reactive to every situation happening in the match. That said, while you need your arms to be fast enough to react to every strike of the ball, you also need quick feet that can help you move in the best way possible. So, if you want to make sure that your feet are also reacting just and your upper body, you need to have the best table tennis shoes that you can get in the market.
Why should you buy table tennis shoes?
Different sports have different body movements involved. Of course, in most cases, sports rely on our legs and feet as we often use them for different movements required to excel in the sport. This is why we need to wear shoes that allow us to comfortably move and react to what is happening during a game or match.
When we look at table tennis, it doesn't seem like you use your feet a lot because the ones making the movements when you strike the ball are your arms. However, when you look at the way the game is played, you need to understand that table tennis involves quick feet movements and sudden reactions from your legs to react fast enough to put yourself in a good position to return the ball. And even if you are not moving a lot, it is still important for you to keep your feet planted in the best position.
That said, you need great shoes whenever you are playing table tennis. Different shoes are made for different sports and purposes as they are designed to make sure that your feet can keep up with the demands of the game. For basketball, you need your feet to be cushioned enough and to have great traction. So, while table tennis isn't as hard on your legs and feet as other sports are, only the best table tennis shoes make your movements easier.
On amateur levels, and whenever you are only playing table tennis as a side sport, you probably can still do well without table tennis shoes as long as you are wearing a good pair of sneakers. However, the more you advance in the sport, the more important it is for you to use table tennis shoes designed to make you excel. This is where it becomes important for you to invest in a good pair of table tennis shoes.
Table tennis shoes are specifically designed to make a player's movements easier and quicker. That means that they are lighter than most other sports sneakers and have a good grip on the floor to make sure that you can keep your feet planted well enough without slipping and reduce the chances of you injuring your ankle when you make all of those quick lateral movements.
Also, when you play table tennis, and you have a good stance, you will understand the importance of table tennis shoes when you are putting the weight of your body on the front of your feet so that you can react quickly. Because table tennis shoes are designed to allow you to do so, you can benefit a lot from these shoes instead of sneakers that are more likely to keep your weight focused on your heels.
So, in a sense, the movements that you require, such as lateral movements and the usual forward and backward movements, actually feel easier and more natural when you are using tennis shoes instead of standard sneakers. You will feel quicker, sharper, and a lot more alert when you are wearing a good pair of table tennis shoes.
Injuries are also common in table tennis, just like how it is in any other sport. That's because table tennis involves quick feet movements that can put a lot of strain on your ankles. As such, it is quite common for table tennis players, amateur and professional alike, to end up rolling their ankles after trying to react to the ball or when they end up slipping quickly. So, if you want to protect your ankles, it is always essential for you to make sure that you wear table tennis shoes.
How to choose the best table tennis shoes?
Before we get to talk more about the best table tennis shoes, let us first look at the factors that you need to consider when choosing the best table tennis shoes. Look out for these factors to know which table tennis shoes are the best for you and your feet.
Flexibility
A good pair of table tennis shoes need to be quite flexible because of how different movements are involved in playing table tennis. This means that the shoes need to have the right flexibility to allow your feet to move well. Many players consider how flexible the shoes are based on how they feel the ground and how stable they are when they are wearing the shoes. Of course, a good pair of flexible table tennis shoes should not interfere with your feet whenever you are landing with your forefoot.
Sole toughness
Whenever you are playing any sport, the sole of the shoes you are wearing should be tough yet flexible enough to handle the movements that you are making. After all, you don't want your feet to feel the impact, but you still want to make sure that you get to have a good feeling of the ground while wearing your shoes. In that regard, having a good pair of table tennis shoes means that you should still be able to have a good ground feeling, but, at the same time, the soles should be tough enough to handle the stress of playing the game.
Feet support
The most amazing table tennis shoes need to have enough support for your feet because they should make sure that they support the arch of your feet very well because of how your feet will be under a lot of pressure and stress while you are playing. You should also get a pair of shoes that gives you enough support such that you have better control over your feet while you are doing all those quick and sudden movements as a table tennis player.
Cushioning
Many people don't think that cushioning isn't all that important for table tennis shoes because of how players don't do a lot of jumping and running. However, imagine yourself doing a lot of different quick and sudden movements and then landing your feet quickly on the ground hundreds of times in a single match. That only means that you need table tennis shoes that are cushioned well enough such that they don't reduce your flexibility but are not thin enough to reduce the impact that your feet feel. Go for shoes with cushioning that are evenly distributed and not focused on the heels.
Light
Finally, table tennis players need to be light and nimble enough on their feet due to the many different sudden movements they make. Your feet better not carry any extra weight, or else this will only reduce your ability to react and return the ball over to the other side quickly. That means that your table tennis shoes need to be light so that you can stay quick and fast on your feet in the middle of a tough match.
What are the best table tennis shoes available today?
Now that we have all of the preliminaries set aside, let us now look at the best table tennis shoes available today.
When you look at the best table tennis shoes available in the market today, there is no doubt in our books and any other person's books that the Butterfly Lezoline Rifones shoes are the best you can have for your feet. Of course, the price that these shoes come with can also justify how great they are as a pair will surely cost you a lot of money. Nevertheless, if you are after a good pair of table tennis shoes that will bring you the bang for the buck, nothing else comes close.
We like these shoes because they were intricately designed to actually fit the standards that table tennis professionals need from a good pair of shoes. When designing the Butterfly Lezoline Rifones shoes, the people behind it really considered the usual demands of a table tennis player in terms of how well the shoes should perform. This is why these shoes come with the best support you can get from table tennis shoes. On top of that, they are very comfortable and stylish as well.
We love the fact that the shoes have a great upper material made of KPU so that they can be very comfortable while you are making all of those sudden movements. Meanwhile, the midsole is flexible enough without sacrificing the cushioning a good pair of table tennis shoes needs. Of course, let's not forget about the fact that it comes with a lightweight outsole with great traction to make sure that your feet are planted firmly on the floor.
First off, we would like to go out and say that the Asics Gel-Rocket 8 is actually designed to be volleyball shoes. But we included these shoes this high up on our list simply because they actually work and are great for any indoor games such as table tennis and volleyball. This is why these shoes are popular among table tennis players despite how they are made for volleyball.
The one thing that stands out first when it comes to the Asics Gel-Rocket 8 is that they come with a perfect fit. As long as you stay true to size, they will fit your feet well enough without making you feel constricted. This allows the shoes to provide your feet with excellent support and superb control while you are out there doing all of those different quick movements with your feet. Moreover, the traction on these shoes is nearly unbeatable as they keep your feet firmly on the floor and always in control.
However, the downside of these shoes is that they are probably not the best for flat-arched feet and those on the wider side of the size chart because of how tight they can be. Still, as long as you don't have such feet, you will love how amazing these shoes are and how they can allow you to feel very light and in control over your feet.
Finally, another aspect that allows these shoes to stand out is that they come with amazing shock absorption thanks to their cushioning. Still, the Gel-Rocket 8 does not sacrifice its weight and control for its cushioning. Of course, the shoes also come with an acceptable price tag if the one above them on this list can be a bit too expensive.
As one of the most popular shoe brands in all of China, you can trust that Li-Ning is there to deliver when it comes to table tennis, which is also one of China's biggest sports. That's why Li-Ning holds the distinction as the national sponsor of the Chinese table tennis team as they are great at developing shoes that are specifically made and designed for the demands of table tennis.
These shoes are made with synthetic leather that allows your feet to feel fresh due to the mesh-like qualities of synthetic leather. As such, you will stay cool even if the game is already so intense. Moreover, the soles come with grooves that are amazing in terms of their grip and traction so that your feet are firmly planted on the floor and are always seemingly in control.
Knowing that table tennis players love to move and land on their forefoot, the Li-Ning Table Tennis Shoes come with toe protection to make sure your toes are well-protected from possible injuries while you are playing. The outside of the shoes is also designed to make sure you don't tip over to your sides, especially when moving laterally. That means that these shoes are great for overall support as they make sure that you are safe and in control over your feet while you are playing an intense game.
We also love that these shoes come with a good enough cushioning that feels comfortable for your feet, all while staying light. They are not the best in terms of their overall ground feel because of the thicker cushioning and sole, but they are great for overall comfort and stability. These qualities make this pair of shoes a good choice in our books as one of the best table tennis shoes available today.
As one of the best table tennis shoe brands in the entire world, Butterfly deserves to have another entry on this list. And the pair of shoes that we chose is the Butterfly Groovy, which is a pair that lives up to its name. That's because these shoes are really groovy and fancy and are capable of standing out due to their looks.
While the Butterfly Groovy may be more popular with its looks and design, it still holds out well with what it allows you to do while playing table tennis. These shoes were made and designed to provide you with the best kind of footwork you need as a table tennis player as you really need to be able to move well with your feet while wearing the best table tennis shoes.
Unlike other shoes, the Groovy comes with thin midsoles that are great at providing you that barefoot feel to keep your feet feeling flexible and well-planted on the floor while you are playing the sport. Of course, because of this, they will feel very light on your feet as you will move and react faster and easier.
We also love the fact that the Butterfly Groovy comes with one of the most comfortable fits out of all of the table tennis shoes we have tried, and that is something that you should love because of how you need to be comfortable in your shoes in the middle of a tough match. And who wouldn't love the stylish colors that these shoes come with?
The bigger sports apparel brand, such as Adidas, isn't particularly known for table tennis. Still, they actually did well enough with the Pw Tennis Hu, which are shoes that are great for any activity whatsoever. They are amazing table tennis shoes, but they are great for all-around activities such as working out and even daily strolling because of how stylish and comfortable they are.
You will immediately feel how grippy the shoes' rubber soles are, and that is one of the things that we love about these shoes. This allows the shoes to have amazing traction, which should be great for overall precision and performance when you are in the middle of a game. Of course, because it is primarily made from mesh, it is one of the lightest shoes you can ever wear as they will make you feel like you are wearing very breathable socks.
That said, while it really isn't the most well-known shoes in terms of table tennis, the Adidas Pw Hu are great because they are light, comfortable, very breathable, and elegant. Moreover, the fact that this pair comes from a particularly well-known brand in the sports industry can be a plus because it allows you to stand out and look cool while wearing them for any purpose.
The Mizuno Wave Rider 23 are actually running shoes. But that has never prevented table tennis athletes from using these shoes as they are great for the sport. And that is because of how these shoes are made to be soft and very comfortable whenever you are playing an intense match out there.
We love the Wave Rider 23 shoes because they have an underfoot that is quite smooth and precise regarding the feel and stability that they provide your feet. This allows you to have a very comfortable feeling in your feet, even in the middle of some of the most intense matches. Of course, we also like how durable the rubber soles are, thanks to how these shoes were designed for intense outdoor running on pavements.
Of course, we also adore how the Wave Rider 23 has a breathable upper material that will keep your feet fresh. That is why these shoes are so amazing when it comes to providing you with the kind of experience you need while you are playing table tennis, as you won't feel uncomfortable at all. The shoes might have thicker heels because they are made for running, but that hasn't stopped table tennis players from using these shoes as the comfort and stability they provide more than outweigh whatever weaknesses they may have.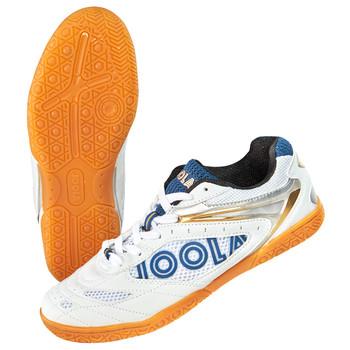 Finally, we have the Joola Court, which might be the final pair of shoes we have on this list, but it still holds up pretty well to any of the other shoes we have mentioned because of how they were designed to be great at delivering the demands of any table tennis. This is why Joola has been very successful as a table tennis brand.
The Joola Court shoes are great for people with different kinds of feet because of how the shoes cater to narrow and wide-footed players alike. This allows them to be great all-around shoes that any athlete will love. Of course, what any table tennis player will love about these shoes is that they are very light but can provide the kind of support and comfort that their feet need. That's because they have an inner sole that is great at cushioning the feet without being too thick as the insole balances impact reduction, weight, and thickness pretty well.
In addition to that, the shoe is also designed to be very flexible so that players will feel free and have that barefoot feel while they are in the middle of a match. That's why table tennis players wearing these shoes tend to react and move faster throughout an entire game.
The fact that the Joola Court is also made of great materials allows it to be good for all-around purposes and not just for table tennis. You can use them for outdoor sports even though they were designed for an indoor sport such as table tennis. On top of that, they also look very cool on your feet.
Conclusion
In addition to other gear in table tennis, the right pair of shoes can really be the cherry on top of the cake when it comes to mastering your table tennis skills. They will provide a grip that allows explosive speed, confidence, shock absorption, and, best of all, comfort.