5 Best Table Tennis Nets and Posts Of 2022
When it comes to table tennis, you are basically playing a smaller version of tennis. That means that you need to have a good net and post set similar to how the larger version of tennis requires nets and posts. In that regard, if you are looking for a good net and post set to complete your entire ping pong table set, you only have to go for the best. That's why I have listed the best table tennis nets and posts sets in this article so that you no longer have to struggle to look through a lot of different options all over the internet.
Table tennis nets and posts and why are they important
When it comes to the sport of table tennis, you need to be able to have a net and posts that allow the net to stay in place. After all, table tennis is basically the miniature version of the classic sport of tennis as it mimics some of the fundamental mechanics of tennis but is played on a table. That said, something as basic as using a net and posts is required when you are playing table tennis.
So, when you are talking about a table tennis net, this is basically a piece of equipment used to divide the table while providing a barrier that the players should not be hit whenever they are playing. The net is usually made of different materials such as nylon mesh, synthetic plastic, or even cloth. And you can affix the net on the table using posts and clams.
The net and the posts that you add to a table vary in thickness, but they are usually somewhere between 16 and 25 mm.
Of course, the nets should be made of superior material so that they adhere to international standards and so that you can play competitively. That's why the net should use steel extension and posts so that it will be effortless for you to adjust the table tennis net and have the proper tension that is required in competitive play. In most cases, going for a 72-inch net is already enough to fit almost all types of ping pong tables.
The following criteria determine what table tennis nets should always be:
About 6 feet long and 6 inches high
Comes in colors such as dark green, dark blue, and/or black
Comes with a white top tape that is about 15mm wide
Meanwhile, the bottom of the table tennis net should be as close to the surface of the table as possible. The ends of the net should be as close to the posts as possible.
So, when you are setting up your table tennis net, you must use a gauge tool that allows you to set your net at the appropriate height needed in competitive play. You need to make sure that the net is set up at the correct height because not doing so will make the sport easier to play.
That said, I have listed a wide variety of different table tennis nets and posts sets to choose from. You need to know what they are to choose which type of nets and posts set is the best for your own preferences.
What are the different types of table tennis net and posts sets?
1. Retractable nets
One of the problems when it comes to setting up and putting away a ping pong net is that it can be a chore to do so from time to time. That's because table tennis nets are long and can easily tangle up whenever you put them away. This is where retractable nets come in to make things easier for you, as they come with a design that can eliminate the chances of the nets tangling whenever you put them away.
Retractable nets work by having the net retract into one of the posts that it is connected to. So, what happens here is that the net and the posts are already attached, and you only have to pull the net from one of the posts, similar to how you are rolling a scroll open. The mechanism allows you to easily pull the net when you are setting up your ping pong table. And when you are done playing, all you need to do is retract the net into one of the posts to store it easily.
Because of how easy retractable nets are to set up and keep, they are best for recreational players who want to have fun playing table tennis. However, the problem here is that you probably need to replace the entire unit if the net of a retractable net gets damaged because you can't just replace the net, considering that the entire mechanism comes as a set.
2. Clip-on net
A clip-on net is also another type of net that is easy to use and set up because all you need to do is clip the net on the table's surface whenever you want to play. This mechanism, again, eliminates the need for you to deal with the chore of affixing the net whenever you play and storing it away after playing.
Clip-on nets are actually pretty stable because they hold onto the table without wiggling around too much. Also, since clip-on nets don't rely on the same mechanism as retractable nets do, you can easily replace the net if it gets damaged. So, once the net has begun to wear out, you don't have to buy the entire assembly anymore because all you need to do is look for a replacement net.
3. Professional clamp nets
When it comes to professional play, professional clamp nets are the standard because the ITTF requires that the nets used for tournaments should be as stable as possible. In that regard, only professional clamp nets provide the kind of stability that will prevent the net from coming off or even moving around during a heated and intense game of table tennis.
The difference between clamp nets and other nets is that they require more preparation when you set them up because of how you need to make sure that you attach the posts to the table using screws. This means that you need to know what you are doing when installing the clamp nets and that you have more than enough time to install them.
However, because of how clamp nets are made to be stable, they eliminate the risk of the net moving or wiggling around so much during an intense match. In fact, the chances of the net coming off is close to zero.
What are the best table tennis nets and posts sets?
When it comes to overall quality, not many table tennis equipment can stand up to what Stiga can offer as this is one of the best brands in the entire sport of table tennis. In that regard, it is only right that we include the Stiga Premium Clipper Net and Post Set in this list.
What I like about this net and post set because it comes in a clipper style that makes it easy to set up. However, you get the same quality as the professional clamp set when it comes to this set, and the only difference is that this one is easier to set up for those who want a quick match.
This set's net is made of a premium blend of different materials such as cotton and other synthetic materials. Meanwhile, the steel posts are made of high-quality steel that is quite sturdy. In fact, the posts clip-on pretty well that they hardly ever move during a match.
Due to the clipper style that the net comes with, it is easy to set up and remove. That's because the clipper comes with a spring-activated mechanism that allows it to clamp onto the table really well without compromising the stability of the net. Of course, the entire set comes with a gauge tool that will allow you to measure the height and tension of the net.
Butterfly is one of the most well-known brands in the table tennis world, and the quality of the brand shows in the Butterfly National League Net Set, which is one of my favorites when it comes to nets and posts sets.
The National League Set was made to be a professional table tennis net set that is made from premium materials and comes with one of the best post systems available today. The assembly is supposed to provide you with the kind of stability you need during a competitive match, which is why it is a professional-grade set.
Because you want to make sure that the table's surface is well-protected, this set comes with rubber heads that allow it to stay on the table without damaging it. Meanwhile, it comes with a calibration pin that will allow you to adjust the net's height without much difficulty at all. And the fact that it comes with an amazing clamping system allows it to stay in place the entire time.
However, I have with this set that it might be a bit more expensive than others. Aside from that, it belongs on top of anyone's list as this is one of the superb nets and posts sets you can find today.
The Joola Outdoor Set is supposed to be one of the best sets that you can use if you prefer to keep your ping pong table outdoors because of how it was made to survive the conditions of the outdoors. And the fact that it isn't really that expensive is another check mark on my list.
Despite being as affordable as it is, this net and post set was made to be durable and sturdy because of how volatile outdoor conditions can be. It was made to survive tough weather conditions and can stay stable even during a particularly windy day. That's why it is called a weatherproof set, as it is made with materials that can withstand the weather.
Moreover, this net and post set was made to be tournament-level in the sense that it is approved to be used for tournaments. As such, you can use it for the most competitive matches possible and even at the professional level.
The downside, however, is that the posts are made using plastic, which is more likely to withstand weather than steel. And the plastic posts are probably the reasons why it is as affordable as it is. But I don't really see a problem there as long as you take care of this net and post set well enough.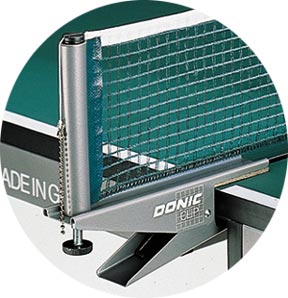 The Donic Net and Post Set are also the best sets you can go for if you want a good clip-on set. That's because it comes with a robust design and a very sturdy mechanism that allows it to stay on the table well enough without feeling wobbly or loose. This is why I love this set and have included it on this list.
One of the Donic set highlights is that it emphasizes the need for easy and simple installation that basically anyone can do. This allows you to quickly set up and put away the net and posts without spending a lot of time. Meanwhile, I also love how tight the tension of the net is.
Of course, the net itself is one of the highlights of the entire set as it is made from high-quality synthetic materials that are durable and very sturdy. Looking at the net will make you realize that this entire set was made with performance and durability in mind on top of how it is also supposed to be very convenient to use.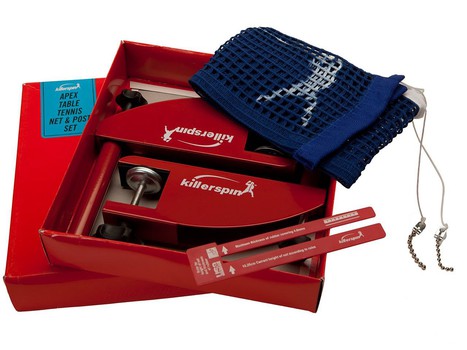 Finally, I present you the Killerspin Apex Set, which performs as cool as it sounds because of its stylish appearance. This makes it the perfect choice for those who want to play the sport in style without considering a lot of the other details when it comes to table tennis net and post sets.
So, I said that this set is made for those who prefer style because it was not designed for competitive players and was made for those who want to find a standard net set they could use for recreational play or training. This means that it is an affordable way for you to practice your table tennis skills or probably work your way up to a more competitive level.
Then again, I really love the stylish look that it comes with. Of course, even though it was made to be more affordable than other sets, the Killerspin Apex Set still is high-quality. Moreover, it is effortless to install and remove because it was made for simple and recreational games. It even comes with a gauge tool that will allow you to set the height and tension of the net correctly,
That said, this might not be the best in terms of its overall quality and design, but it was made for all-around and everyday play.
Conclusion
In table tennis, it is essential to have a proper net installed on the table because it needs to be durable and receive the ball as intended. Each net above has different perks, and before deciding the one that suits you the best, it's important to think about your situation and needs. I sincerely hope that this article was helpful to you, and you now are at least one step closer to finding your ideal table net!