5 Best Table Tennis Glues (Helpful Guide)
For those still learning about table tennis, the glue that you use doesn't seem to be one of the more important factors, but it actually means a lot to your performance. That's because the glue decides the amount of spin and the consistency of the rubber on your racket. As such, you need to choose the best table tennis glues. That's why I have come up with a guide that will help you choose the best table tennis glues the market has to offer.
Table tennis glue and what is it used for
When it comes to table tennis, professional players or the more competitive ones assemble their own table tennis bats or rackets. That's because this allows them a wider range of options that they can have regarding the quality of their rackets. This also essentially allows them to customize their own rackets when they put them together. And when it comes to sticking the rubber to the racket itself, you need good table tennis glue to do the job.
Not many people really consider how important the glue is, especially if you are talking about amateurs or beginners in table tennis. But what you need to know is that table tennis glues are actually very important when adding to the spin and speed of your racket because of how the glue affects the performance of the rubber. As such, this has led table tennis players to experiment with different types of glues for the longest time possible.
In the past, the most reliable type of glue was speed glue, which is a type of glue that contains volatile organic compounds (VOC). It was so popular because it added about 10% to the speed of the ball and about 20% to the spin.
However, because of how popular speed glue was, it was impossible for table tennis players not to experience the health hazards related to this type of glue. Imagine a room full of table tennis players using speed glue, which releases fumes full of volatile organic compounds. Because of how there would be plenty of players doing so, the fumes would instantly fill the room up and cause health hazards. That's why the ITTF banned the use of speed glue, as it had health hazards that could affect the overall safety of the players.
Today, the only type of glue that is approved by the ITTF is water-based glue or non-VOC glues because of how they are safer in comparison to speed glues. So, while speed glue might be better overall, the fact that it isn't approved by the ITTF is the downside. That's why all of the different table tennis glues I will be discussing today adhere to the standards set by the ITTF so that you can safely use your ping pong racket in competitions.
What to look for in table tennis glue?
Now that you know what table tennis glue is for let us look at what factors you should be looking at when choosing which table tennis glue to buy.
1. User-friendly
You need to choose a table tennis glue that comes with user-friendly packaging. What that ultimately means is that the glue should be packaged well enough so that it won't give you a hard time when you want to use it. That's because time can be of the essence when you are gluing or regluing your table tennis racket.
That said, you may want to go for glues that have smaller openings. I recommend glues with smaller openings because you will find that it is easier to control the flow of the glue when you squeeze it out of its packaging. Meanwhile, glues with larger openings might be easier to apply, but it might be difficult to control the flow.
2. Easy application
Of course, you don't want to waste a lot of time using glue that is difficult to apply on your table tennis racket. That means that you have to go for the glue that is very easy to use and apply, such as when all you need to do is squeeze the glue out and then use its sponge to apply the glue carefully on the racket.
After all, you don't want to use glue that will take up too much time and effort to apply on your racket. You don't have this kind of luxury in the middle of a tournament when you want to make sure that your table tennis racket is in top shape.
3. ITTF-approved
The truth is that speed glues can still be found in the market today, but they are only banned in tournaments by the ITTF. You can still use speed glues if you are playing in amateur games or for recreational purposes, but you cannot use them in competitions and tournaments sanctioned by the ITTF.
That said, if you want to use a type of glue that is safe and can also be used in tournaments, always go for a glue that comes with the approval of the ITTF so that you won't have any problems if you do indeed join a tournament. Of course, it also helps that you will not have complications concerning your health when you inhale too much speed glue fumes.
4. Forms a strong film
At the end of the day, the main reason why we reglue our table tennis rackets is to make sure that the glue forms a strong film that adheres to the racket and the rubber. After all, the film that is formed by the glue is what allows the racket to improve its overall performance. That's why you need to make sure that you choose a type of table tennis glue capable of forming a strong film so that you will excel in competition and have a strong and firm racket that probably won't require constant regluing now and then.
What are the best table tennis glues?
With all that said, let us now look at the best table tennis glues that you can buy in the market today.
Coming from one of the most popular and most respected names in the table tennis industry, the Butterfly Free Chak is one of the best table tennis glues you can get in the market today. In my books and in the books of professional table tennis athletes, this is the best because of how easy it is to use and how well-trusted it is by some of the best players we have in the world today.
The first reason why this glue is one of the best is due to how it is made in compliance with the standards set by the ITTF. This means that it is free from organic solvents that can be dangerous and that it can also be used for competitions and tournaments. The glue itself is made from natural caoutchouc, which is simply a natural rubber that comes with some of the best adhesive properties that you can find among different types of natural rubber.
One of the things that I like about this table tennis glue is that it tends to dry up quickly fast, making it great for tournaments that require you to reglue your table tennis racket in a hurry. But you should still give the glue enough time to dry up such that it will no longer smear on your fingers. As such, this will allow the rubber and the blade to stick together well enough while forming a good layer of glue between them.
There is nothing else that comes close to the Butterfly Free Chack's adherence in terms of its overall performance. It is great at adhering to the rubber and blade. On top of that, this glue is very easy to use, and that is why top players swear by this table tennis glue as there is no other product that can stand up to it in terms of quality and performance.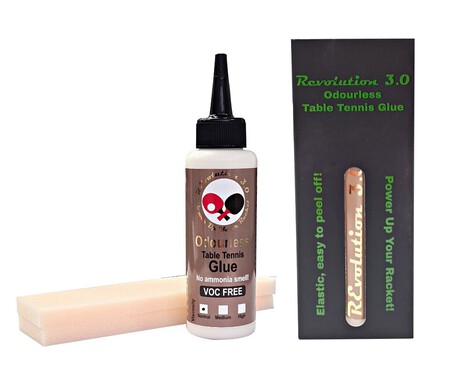 While not really the most popular table tennis glue in the market, I still believe that the REvolution 3.0 glue is one of the best you can get today, primarily because of how it comes with a formulation that eliminates the annoying fumes with most glues. It is an odorless glue that doesn't come with that ammonia smell that may be too nauseating for some players.
As such, this glue is innovative in its own right primarily because of how it can be the next big step in terms of odorless glues. Even some of the best on this list come with annoying odors, and that is one thing that may turn some players off.
While REvolution 3.0 prides itself on being a great glue in its odorless appeal, it is also mechanically one of the best the market has to offer. Its adherence is pretty strong and has been improved from the previous formulations. This allows it to do well when compared to other glue brands on the market .
This glue also does well when you are regluing your racket. That's because it is quite easy to peel off as the layer of glue remains on the blade and not on the rubber. This will allow you to easily peel the layer off without having to exert a ton of effort.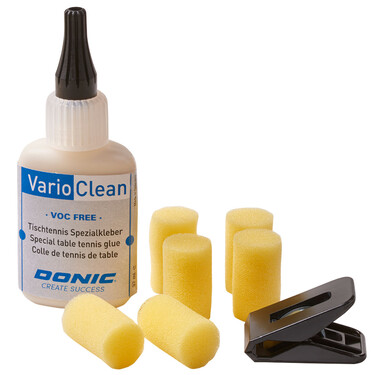 As affordable as the Donic Vario Clean might be, you might not think that it should provide you with a good product that performs well enough. But then again, this is the best product I can think of in terms of its blend of budget-friendliness and overall performance, as it really surprises you with how good it is despite being more affordable than most other glues on this list.
Of course, the Donic Vario Clean adheres to all of the different standards set by the ITTF in terms of how safe it is, as it comes with no harmful compounds that can be dangerous to a treble tennis player. This is a completely water-based glue that dries fast enough and can provide you with a good formulation that is great to use in the middle of a tournament.
I also like the fact that the Donic Vario Clean is very easy to handle and use. You won't have any problems using this type of glue because of how it comes with a design that allows any player to use it easily and quickly. And it will take only five minutes for the glue to dry off completely so that you can immediately use your racket after applying the glue. Of course, its adherence quality is also pretty good as it does its job of allowing the blade and rubber to stick well to one another.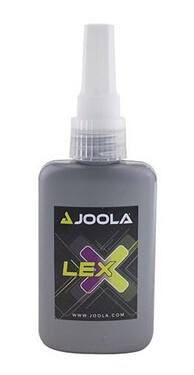 I also cannot discredit how great the Joola Lex glue is when it comes to how well it adheres to your blade and rubber, as this is also one of the products that I highly recommend to any table tennis player out there.
Like any of the other glues mentioned on this list, this is a glue that is free from dangerous solvents and comes with a latex-based formulation that makes it an efficient adhesive. Simply put, it does its job quickly and well enough so that you don't have to waste a ton of time and effort when you are gluing your racket.
Of course, like any great table tennis glue, the Joola Lex is very easy to use as the rubber sticks well to the glue without the need for you to do anything. In fact, the rubber and blade stick together flawlessly with one single application.
And the best part of all of it is that, when you want to reglue your racket, you can easily peel the layer of glue off using your fingers so that you don't even have to use any other material or tool to peel the glue off.
The Joola X glue is another one of the products that I like from Joola. While it doesn't differ a lot from the Joola Lex, I like that it is water-based and that it comes with a green formulation that allows it to be safe and environmentally friendly. This can be great for those who really want something as close to natural as possible.
Of course, the Joola X glue also comes with the same high-quality adherence as the Lex. It is simply great to use because of how it adheres to the rubber and blade well enough compared to some of the other glues out there on the market.
It also is quite affordable and comes with an easy application feature that won't make it difficult for you to use the product on your racket. Moreover, you will love how it is easy to remove as you can use your fingers to peel the glue off of the racket whenever you want to reglue your racket in time for your next game or tournament.
Conclusion
When it comes to gluing your blade and rubber together, you must use the right kind of glue to perfect the bond between the two, and luckily there is nothing less than the quality ones above! Before gluing anything, make sure that you read the instructions and understand how to use them, and everything will go more than well!